SHENZHEN, China, Sept. 10, 2021 /PRNewswire/ -- Winner Medical Co., Ltd. (300888.SZ), a leading manufacturer of high-quality medical and consumer products. The Winner celebrates its 30th anniversary this year alongside the release of its first annual corporate social responsibility report that highlights its continued commitment to sustainable, innovative, environmentally friendly development.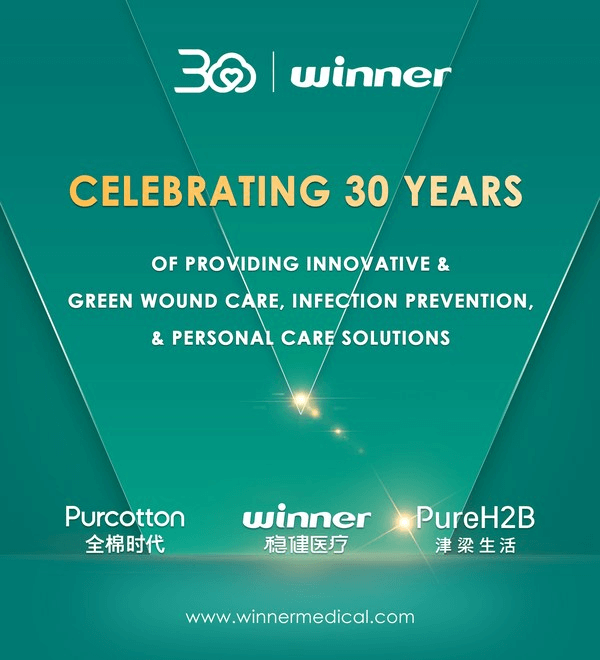 Winner Medical Celebrates 30th Anniversary with Continued Focus on Sustainable Development
The CEO of Winner Medical, Jianquan Li said, "Since 30 years ago, Winner Medical has maintained a 'green consciousness'. We are committed to becoming a sustainable, green, and environmentally friendly company. Through our technological and scientific expertise, we have been constantly reducing our energy consumption and carbon emissions in the entire production chain. We will continue to uphold our sustainable development and ecological-focused philosophy."
Our corporate philosophy is embodied in all aspects, first of all, the raw materials for production. All Purcotton products under Winner Medical use cotton. Cotton is one of the natural fibers, which has the characteristics of sustainability and environmental protection. It only takes 6 months for cotton to be planted to harvest, and cotton products can be naturally degraded within 3 months and become organic fertilizers without additional burden on the environment. In addition, cotton is one of the most drought-tolerant crops. Planting cotton consumes only 2.3% of the water needed for agricultural production and 3% of the relevant arable land, but it can provide 36% of the world's fiber. At the same time, planting cotton can also prevent soil erosion and desertification.
Winner Medical is fully aware of its environmental responsibility and adopts various measures to minimize the negative impact of the environment during the production process of its products. For example: replacing coal with natural gas, recycling water, etc. We continue to optimize production processes and technologies, reduce energy and resource consumption, and create an environmentally-friendly enterprise. Winner Medical adheres to the core principle of "Quality is higher than profit" and is committed to providing customers with professional and secure services and becoming a trustworthy industry leader.
In April this year, Winner Medical released its annual corporate social responsibility report for the first time, giving a comprehensive overview of the company's practices and achievements in environmental, social, and corporate governance (ESG). At the beginning of 2021, we have investigated the energy use-value, energy conservation, and environmental protection measures of the entire company, including subsidiaries. The collected data is used to develop a realistic and measurable timetable for the company's carbon peak and carbon-neutral goals. The company has put the concept of emission reduction into action and integrated it into the entire supply chain.
About Winner Medical
Winner Medical Co., Ltd. (stock code: 300888) was established in 1991 and is headquartered in Shenzhen, China. Winner Medical is a large-scale health company that has realized the coordinated development of medical and consumption. It has three major brands: "Winner Medical", "Purcotton" and "PureH2B". The company is committed to providing users and consumers with more high-quality products and creating value for a better life.
As a leading medical product brand in China, Winner has 30 years of experience in producing medical products. At the same time, Winner is also a brand with a global perspective. Purcotton, as a daily necessities brand, has inherited the company's 30 years of experience in the production of medical supplies. The brand uses pure cotton as raw material and is committed to creating a series of healthy, comfortable, and environmentally friendly high-end cotton daily necessities. PureH2B is a life platform that provides consumers with high-quality, healthy, and beautiful products from all over the world.
For more information, please visit: https://www.winnermedical.com