Medical facilities and surgeons have many tools, such as surgical drapes, gowns, and nonwoven sponges. However, people are beginning to realize the benefits of using non woven sponges during surgery.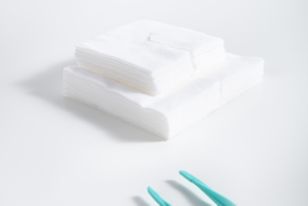 What are modern non-woven sponges?
A specific class of medical disposables used to treat wounds is advanced non-woven sponges. They include unique substances that guard against infection and promote recovery.
Why use a nonwoven sponge in surgery?
Because of its many advantages, nonwoven sponges are becoming increasingly popular as surgical instruments. These sponges are made of synthetic fibers tightly bound together, making them very soft and absorbent, making them ideal for cleaning surfaces and removing blood. This makes them ideal for surgery because they can quickly absorb blood and other liquid tissue. In addition, nonwoven sponges are soft and pliable, making them easy to handle and reducing the risk of tissue damage.
Nonwoven sponges have many benefits when it comes to surgery. They are less likely to cause infection. Nonwoven sponges absorb more fluid than traditional surgical sponges, which helps reduce the amount of blood lost during surgery. In addition, nonwoven sponges do not leave fibers on the surface that can cause irritation or other medical problems.
Manufacturer of quality
For all the reasons above, advanced wound dressings like non-woven sponges provide various benefits. Winner Medical is a seasoned manufacturer of disposable medical supplies with substantial R&D and production skills, so its unique non-woven sponges are of the greatest standard and dependability. This is guaranteed by their state-of-the-art production methods and quality raw materials. If you utilize innovative non-woven sponges from Winner Medical, wound care will be simpler.
Conclusion
Winner Medical has won praise from the medical field for the caliber of its goods as a reputable producer of premium medical dressings. The worldwide accreditation they have attained also demonstrates the items' effect on a global scale. Winner Medical is confident in its ability to supply premium dressing products for use in operating rooms and clinics for high-end non-woven sponges.