A Laparotomy Drape is a covering used in surgery to keep a sterile environment. A laparotomy drape is typically made of two layers of thin, transparent material that can be draped around the abdomen and tightened with snaps or other fasteners to hold it in place. Laparotomy drape gives surgeons much better access to the abdominal area than they would otherwise have, which leads to faster and more precise surgery.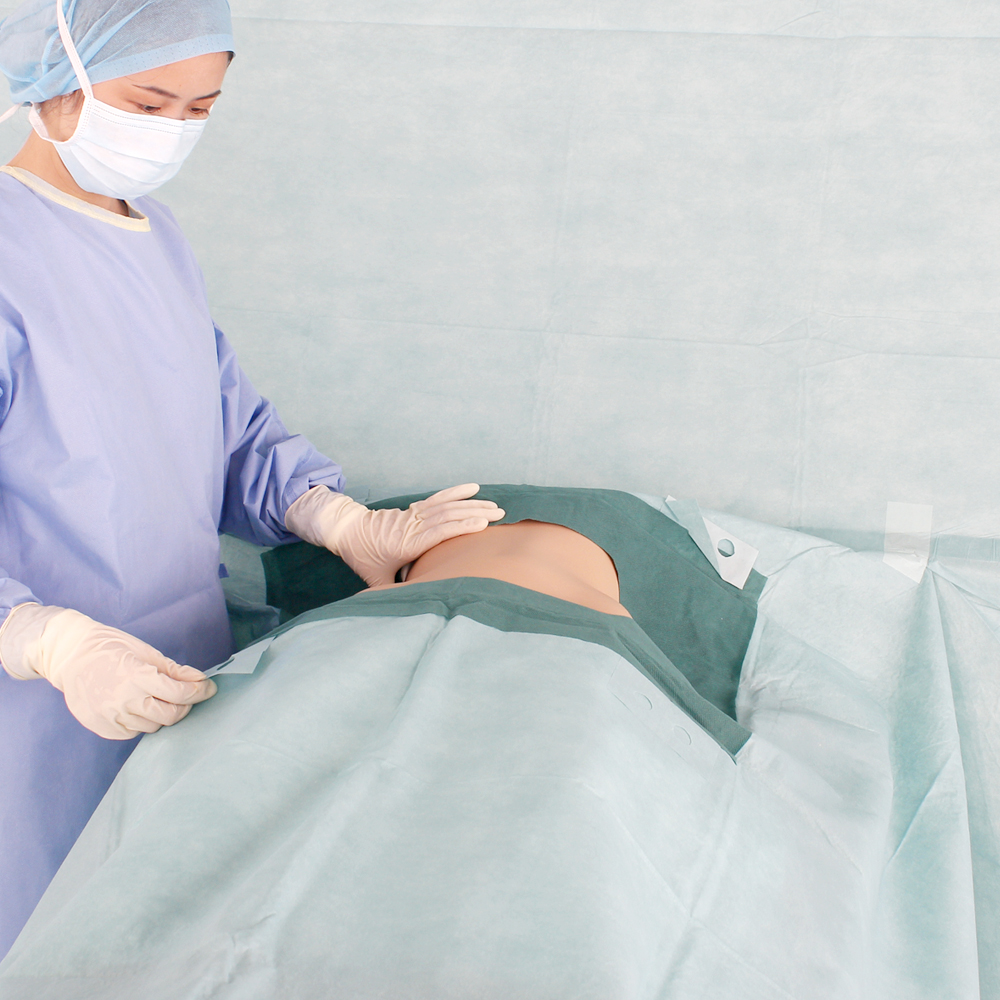 What is Laparotomy Drape?
A laparotomy Drape is a type of surgical drape that is often used during surgery and is placed over the patient's body during a laparotomy. The laparotomy drape provides a barrier between the surgical site and the rest of the patient's body, which helps to keep the surgical site clean and free from infection.  It is a lightweight, mesh-like material that is draped over the body to help keep the patient warm and protected from debris while they are being operated on. The use of a laparotomy drape is an important part of any abdominal surgery and can help to ensure a successful outcome.
The benefits of using a Laparotomy Drape in surgical procedures include:
1. It helps to protect the patient from debris and other potential injuries.
2. It can help to keep the patient warm and comfortable during surgery.
3. It helps to provide privacy for the patient.
4. It helps to prevent unintended consequences. The drape can help to prevent accidental spillage or contamination of the surgical site.
Why use a laparotomy drape?
There are many reasons why a laparotomy drape is useful during surgery. For one, it helps keep the patient clean and protected from debris. This can provide better protection, which can lead to serious complications. Finally, using a laparotomy drape can help prevent the movement of the patient's body parts during surgery, which could lead to further complications.
Benefits of Using Laparotomy Drapes in Surgical Procedures
Laparotomy drapes are a simple and safe way to prevent the spread of infection and minimize the risk of wound complications.
Laparotomy drapes can be used during numerous surgical procedures, including abdominal surgery, breast surgery, hernia repair, and prostate surgery.
There are a few things to keep in mind when using laparotomy drapes. First and foremost, make sure that the drape is properly fitted and sized for your specific procedure. Second, be sure to follow all safety guidelines for using this type of equipment. Third, keep your hands and arms clean and free of any objects that could become entangled in the drape. And avoid contact with the drape itself, as it can be extremely slippery. If it becomes necessary to touch the drape, use caution to avoid causing injury. Finally, be sure to monitor your patient closely for any signs of infection or adverse effects from the use of laparotomy drapes.