Treating wounds and injuries can be challenging, whether you're a caregiver or a medical professional. They could become worse if they are not appropriately handled. Utilizing state-of-the-art wound dressings is one way to stop this. The top benefits of moving from conventional wound dressings to the innovative non woven sponge offered by Winner Medical are covered in this article.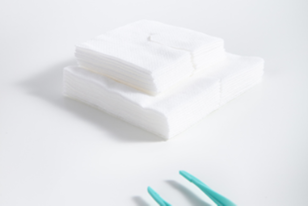 What is a nonwoven sponge?
Nonwoven sponges have a relatively low surface area ratio to a traditional sponge's volume, making them more effective at capturing smaller objects.
Nonwoven sponges are made of a web-like fabric, used to clean surfaces, and are often used in surgery because they can be squeezed to create a large amount of suction. The large surface area of the sponge helps it absorb more fluid and debris than traditional sponges, making it easier for the surgeon to clean the area.
What advantages do modern non-woven sponges offer?
Modern non-woven sponges are a kind of wound care product with many advantages. These sponges are also gentle on the skin and can help to prevent tissue damage. They are an excellent choice because:
First, non-woven sponge products aid in establishing a stable external environment for wounds. They do this to avoid contaminating or soiled-ing the region around the incision. Additionally, they prevent the wound from deteriorating.
Modern wound dressings also lessen discomfort and swelling. They function by preventing the brain from receiving pain impulses. Because of this, the person feels less pain. Additionally, they aid in reducing the swelling and inflammation around the area.
Using sophisticated non-woven sponges, in particular, aids in reconstructing the skin layers that cover wounds. This might encourage the skin's natural collagen synthesis and enhance the skin's overall appearance. For this reason, choosing the appropriate type of wound dressing is crucial.
Conclusion
In today's world, it is common for people to have surgery. It is important to ensure that the safest tools and techniques are used in surgery. One of these tools is the nonwoven sponge. Non-woven sponges from Winner Medical are absorbent material that has many benefits for surgeries. They can be used to help with the absorption of liquids, blood, and other substances.