This is an article about the importance of surgical materials in a hospital. The article points out that doctors need proper protection and care, like using disposable surgical gowns and drapes to stay safe.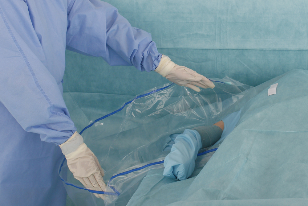 Why are surgical gowns and drapes important?
Surgical gowns and drapes are essential for the safety of doctors during surgery. These garments protect patients from infectious materials and harmful bacteria that may be present in the operating room. Properly wearing a surgical gown and mask helps prevent cross-contamination between doctors and patients.
Surgical gowns and drapes are also important for the comfort of doctors. They help to keep doctors warm during cold weather conditions and cool during hot weather conditions.
Types of surgical gowns and drapes
There are many types of surgical gowns and drapes available at Winner Medical, but it is important to choose the right one for your specific needs.
Universal surgical drape set: A universal one is a customized solution for hospital procedures. Universal Surgical Drape sets' usage facilitates the operating room's everyday work. Universal drapes and sets are suitable for all types of surgery. It is resistant to tearing, strikethrough and abrasion; It has a safe barrier function against liquid and bacterial transmission;
Shoulder Arthroscopy Drape Description: A shoulder arthroscopy set is a customized solution for arthroscopy procedures. It's low lint to reduce the risk of airborne bacterial transmission; It's Optimal folding for aseptic application; Integrated with apertures, tube holders, fluid collection pouch, and instrument pouches for easy usage.
Cranio Drape Description: They are designed for surgery on the skull. Depending on requirements, the drape is made of SMS or laminated fabric (2-layers or 3-layers nonwoven fabric).
Winner Medical's Craniotomy Drape with Pouch is made with a design that makes it ideal for use during craniotomy procedures. It offers a drape solution that integrates a reinforced area and fenestration with a full incise film.
What should you know about Winner Medical disposable gowns or drapes?
1. Material: Winner Medical surgical gowns are usually cotton or polyester. Both materials are moisture resistant and generally comfortable, but cotton is more absorbent. Polyester is also more breathable and less likely to irritate.
2. Fit: Winner Medical can customize an exclusive surgical gown to your needs, which ensures that the gown hangs properly and covers all areas needed for safety. Generally, robes will fit snugly around the chest, waist, and hips but not too tight or loose.
3. COMFORT: Winner Medical's disposable surgical gowns have no irritating materials that can cause discomfort and no pilling or seam issues.
4. Professional protection: Winner Medical's surgical gowns have good safety performance and pass safety inspections.