Surgical and disposable gowns have many uses as essential garments worn by medical personnel. Learn about the role of surgical gowns in this blog post.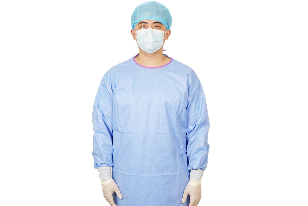 Introduction: What is a surgical gown?
The surgical gown is the outer garment worn by the surgeon during surgery. The purpose of the gown is to protect the surgeon from bacteria and other contaminants that may be present in the operating room.
Surgical gowns are usually made of cotton or other porous materials, so they are also softer and more comfortable.
How do surgical gowns protect doctors?
Surgical gowns are designed to protect doctors from potential harm. Robes are made from various fabrics, including cotton and rayon, and are usually padded with foam or microbeads for extra protection. The gown also has a lining made from a soft fabric, such as cotton, to help reduce irritation and inflammation.
How are surgical gowns made?
 It is made of thick, strong fabric that protects the wearer from blood and other potentially infectious substances. Many different companies manufacture this product. For example, Winner Medical's surgical gowns increase overall protective strength and safety performance and add comfortable cotton fabrics. Their surgical gowns come in various styles, from the classic long-sleeved white doctor gown to more stylish options like the green disposable surgical gown. Winner Medical also prepares matching disposable surgical gloves for doctors to protect the wearer's hands from blood, bacteria, chemicals, etc., just like the doctor's gown.
Conclusion
Surgical gowns can be kept clean and sterile throughout the surgical procedure. Additionally, Winner Medical's gowns have special features, such as pockets designed to store tools and supplies, to make the surgeon's job easier.