The article will detail the uses and benefits of disposable surgical gowns and drapes for infection prevention.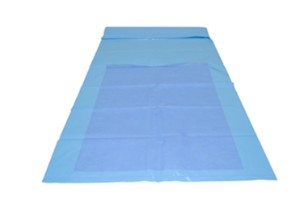 Introduction
Surgical gowns and drapes provide an important layer of protection for surgeons and other healthcare providers during procedures. For example, a surgical gown can help protect the surgeon from potentially harmful bacteria and other infectious agents. In addition, a surgical curtain can provide added protection by trapping droplets that may contain infectious agents.
Surgical gowns and drapes are a critical part of infection prevention in the healthcare setting. These simple precautions allow patients to be confident that they are receiving the best possible care.
What do a surgical gown and drape stand for?
A surgical gown is the outerwear worn by a surgeon while performing surgery. It is made of a sterile material to keep the surgeon clean. The gown also helps to protect the operating room environment from contamination.
A surgical drape is a piece of sheeting placed over a patient's body during surgery. It helps to prevent cross-contamination between doctors and patients.
Why are sterile surgical drapes used?
Surgical gowns and drapes are necessary for infection prevention during medical procedures. Sterile surgical drapes help to prevent contact between the patient and any potentially harmful bacteria or viruses that may be present in the operating room. Gowns and drapes also help keep the patient clean and free from accidental contamination.
Disposable versus Self-Contained Drapes
A recent American College of Surgeons study found that surgical gowns and drapes can play an important role in controlling infection rates. The study found that when using disposable gowns and aprons, self-contained gowns and drapes were associated with a 41% reduction in the risk of acquiring an infection.
Safety of Drapes and Gowns
Infection prevention is of utmost importance in the medical field. Infected patients would spread germs to staff and the environment. Therefore, formal gowns and drapes help to keep patients and staff safe from infection. Winner Medical's business has been extended to disposable surgical consumables, providing doctors with all-around infection prevention preparations from protective caps to surgical gowns.
Conclusion
In addition to the proper use of surgical gowns and sheets during surgery, Surgical gowns and drapes must be properly disinfected before and after use to prevent infection. Thank you for reading, and I hope this article has helped you understand the importance of proper infection prevention and the right choice for surgical gown manufacturers.