Fenestrated drapes act as a protective barrier during surgery, preventing the transfer of microorganisms and pathogens between the patient and the surrounding environment, thus helping to maintain a sterile environment. There are two types of surgical cavity drapes, disposable and reusable, depending on the material used to make them. Today's presentation is from Winner Medical, which manufactures high-quality
universal fenestrated drapes
that have been approved by medical staff in clinical trials.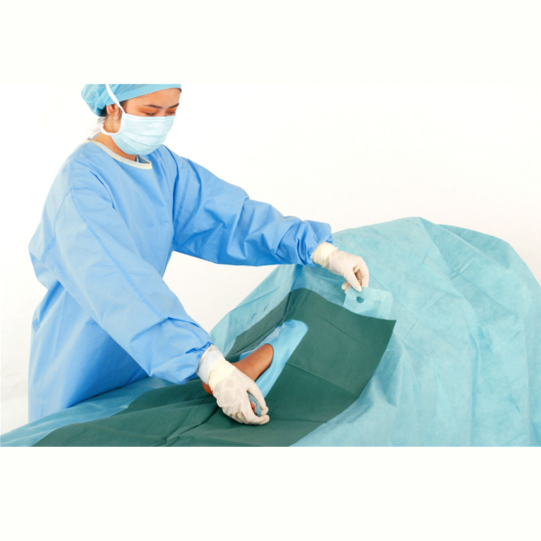 The universal fenestrated drapes offered by Winner Medical are distinguished by the following qualities.
1. Designing surgical cavity drapes by combining surgical use, type of surgery, surgical position, surgical time, surgical equipment, and other factors; incorporating individual designs such as surgical patch, fluid collection bag, tissue filter membrane, and other factors.
2. Hypoallergenic double-sided sticky tape is used to secure surgical sheets for patients.
3. To reduce the amount of time spent spreading out sheets, utilize the aseptic folding procedure.
4. The SMS nonwoven, SMMS nonwoven, SMMMS nonwoven, and wood pulp spunlace nonwoven that are used in the production of Winner Medical's universal fenestrated drapes are all compliant with the requirements of both domestic and international standards such as YY/T 0506 and ISO 16542. It has a high bacterial barrier performance, is good at air permeability, is resistant to hydrostatic pressure, does not flocculate, resists blood, alcohol, and other liquids, and is anti-static.
5. The clinical requirements of medical and nursing staff can be met using Winner Medical's non-woven fabric because it is lightweight, breathable, and comfortable.
6. Winner Medical's universal fenestrated drapes with a design that features two holes for openings and additional liquid absorbing material strategically placed in important regions to effectively absorb exudate.
7. On both sides of the instrument panel is a transparent PE film that covers the universal fenestrated curtains. This not only helps to maintain sterility but also makes it easier for doctors to perform their duties with clear visibility.
Advanced Manufacturing
The universal fenestrated drapes provided by Winner Medical are made with equipment that is high-tech, imported, industrial-grade, and designed for large-scale production. In addition to ensuring that the product is as sterile as possible, automated production helps eliminate a significant number of the quality issues that are brought on by human interaction in the manufacturing process. Visit the official website of Winner Medical for much more detailed information about the universal fenestrated drapes.