Winner Medical is a professional
sterile drape sheet
manufacturer. Through technological innovation, they produce high-quality sterile drape sheets that meet international standards. Clinically approved by major medical institutions, the sterile drape sheet meets the requirements of surgical asepsis and solves the previous problem of sterile drape sheet debris.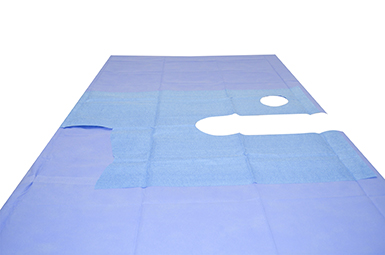 The sterile drape sheets offered by Winner Medical come with several benefits, including the following:
Firstly, effective and economical use of time. The sterile drape sheets offered by Winner Medical come in a variety of sizes that are frequently utilized in operations. The company's extensive product catalog offers solutions that can shorten the amount of time required by medical personnel to be ready for time-sensitive procedures.
Secondly, trustworthy and dependable. The sterile drape sheets offered by Winner Medical are items that are intended for single use and are manufactured by the quality requirements that are applicable internationally. In the purification workshop, every step of the product production process is carried out, from the procurement of raw materials to the assembly of the final product. The cleanliness and safety of medical supplies can be ensured by reducing the likelihood of early contamination and following methods for sterilization that are closely monitored and managed.
Thirdly, cost reductions. It is more hygienic to use sterile drape sheets supplied by Winner Medical packed in surgical kits produced by Winner Medical rather than reusing surgical materials. This also saves time and money by reducing the amount of cleaning and sanitizing that needs to be done.
Fourthly, professional design. The skilled medical development team at Winner Medical determines the configuration of components that are suitable for different sections of the body according to the surgical features of each area of the body. These designs are based on patient anatomy.
Fifthly, personalization. To cater to the requirements of a wide range of surgical procedures, we offer a selection of sterile drape sheet materials, as well as sterile drape sheet that has been specifically tailored for a given procedure.
About Winner Medical:
The team at Winner Medical is aware of how vitally important quality and consistency are for medical products; hence, they have been working diligently throughout the development process to refine the products by the recommendations and expectations of clinical personnel. Winner Medical treats each stage of the production process with the utmost care and attention to detail at all times. We are confident that the goods offered by Winner Medical will contribute significantly to the advancement of medical and health care.