The quality standards for surgical equipment are far higher than those for other types of medical supplies.
The sterility requirements of surgery can be satisfied by the correct use of fenestrated drapes, which are frequently utilized in the operating room. At the same time, it stops water, bacteria, and dirt from getting into the wounds that are already infected, which helps to keep wound infections at bay while the procedure is being performed.
Because of their impeccable quality and sterility, the
universal fenestrated drapes
manufactured by Winner Medical are the product of choice for hospitals and other medical facilities all around the world.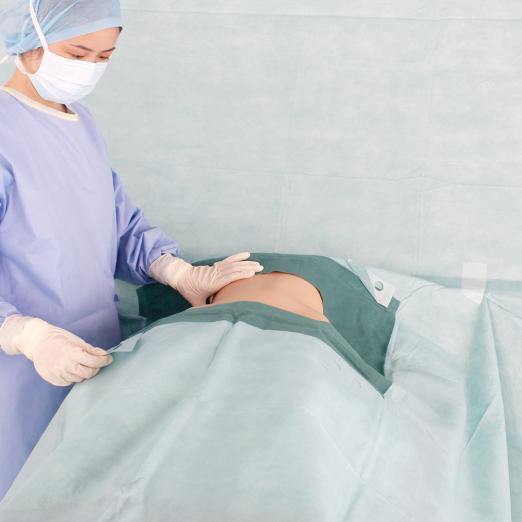 Reasons for Choosing Winner Medical's Fenestrated Drapes
1. The fenestrated drapes manufactured by Winner Medical have strong barrier qualities; the patient's skin is covered in fenestrated drapes after the surgical site has been cleaned and prepped. This substance sticks to the skin, the surgeon slices the skin, and then covers it, producing a barrier that is either mechanical or microbiological to stop the migration of bacteria to the surgical site.
2. Fenestrated drapes have infusion: fenestrated drapes can make body fluids or medication during surgery flow in a set direction to the collection bag, without remaining at the surgical site and affecting the surgery, and will not stick to the patient's body or on top of fenestrated drapes to cause contamination or infection, and will not allow body fluids or medication to remain at the surgical site and affect the surgery. In addition, fenestrated drapes will not allow body fluids Because of this, it can successfully prevent cross-infection of patients and preserve the safety of medical workers, which enables the operation to go smoothly and effectively.
3. The fenestrated drapes offered by Winner Medical have a high level of breathability. As a result of the high quality of the non-woven materials used in their construction, these fenestrated drapes have good "breathing" properties. These properties help to ensure that medical personnel remains comfortable even when working long hours or handling large volumes of fluid. The fenestrated drapes have an excellent "breathing" performance, which may ensure that the health care personnel are in a good comfortable condition over the long period and high volume of fluid that is being handled.
4. Positioning: The pre-cut holes in the fenestrated drapes may fully display the surgical area, which will make intraoperative positioning and operation easier to do.
To protect the medical staff, maintain the sterility of the environmental surfaces, equipment, and patient surroundings, and reduce the risk of pathogen transmission, the use of the high-quality fenestrated drapes manufactured by Winner Medical during surgery prevents contact with the surface of the operating table and effectively blocks the leakage of various patient fluids.