Universal fenestrated drapes are disposable surgical drapes designed to be used as an aid for surgical procedures on specific areas of the patient. The surgical drapes come with holes for specific surgical locations where the surgeon can perform the procedure. Winner Medical manufactures high-quality fenestrated drapes that are well designed and meet international standards.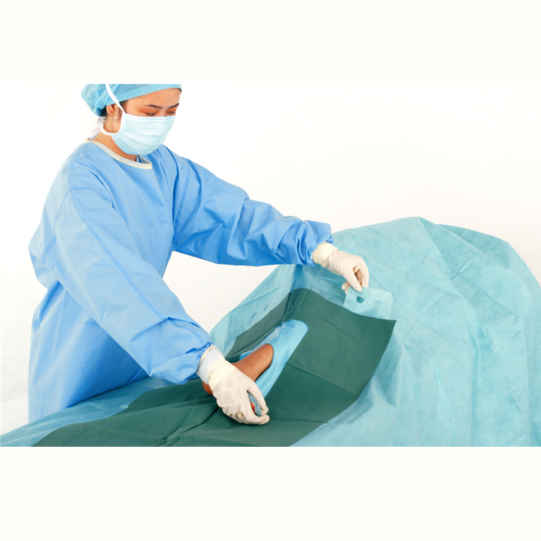 Benefits of Applying Winner Medical's Fenestrated Drapes
Winner Medical manufactures sterile fenestrated drapes for almost every medical procedure. Before surgery, they are used to cover areas that are not part of the procedure. The cavity wipes with hypoallergenic tape are used to hold catheters and intravenous lines in place during the procedure. Also, fenestrated drapes have folded pockets at the bottom to collect blood or body fluids spilled during surgery. They not only care for the patient but also protect medical staff from cross-contamination during surgery.
Sterile fenestrated drapes made by Winner Medical are also used to protect medical equipment from accidental damage. Liquids can cause damage if they fall on certain equipment. Covering such equipment with sterile fenestrated drapes protects the equipment without contaminating the sterile areas required for most medical procedures.
Why Choosing Winner Medical
Comprehensive surgical pack: Winner Medical provides a diverse selection of goods so that all of the items contained in a single package may be utilized for the same operation. This ensures that the value of the pack is maximized while reducing the amount of material that is discarded. Our extensive selection of surgical pack solutions, which includes fenestrated drapes and protective gowns, are designed to fulfill the requirements of practically every operation that may arise during clinical surgery. The effectiveness of surgical techniques enables medical practitioners to concentrate more of their attention on ensuring the patient's life is both safe and comfortable.
Winner Medical places a high priority on the modernization of its clean and sterile processing factory: As a result, Winner Medical has made significant investments in imported equipment to construct a first-rate automated production workshop that is in line with international standards. The result is a high level of production quality. The sterility of all universal fenestrated drapes is ensured to protect the quality of the items.
Conclusion
Winner Medical's surgical solutions have been clinically proven to help reduce the occurrence of surgical obstruction in hospitals. Visit Winner Medical's official website for further information about the universal fenestrated drapes.