As an industry leader from China, Winner Medical produced a high-quality angiography pack that is comprehensive in components and reliable in quality. Take a glance at the details.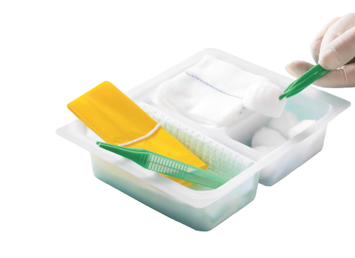 When it is necessary to determine the condition of cerebral vessels, coronary arteries, venous thrombosis, arterial thrombosis, etc., angiography is a trustworthy procedure that may be used to examine blood vessels as well as other disorders. Winner Medical produces a wide variety of angio packs, each of which can be ethylene oxide-sterilized in the manufacturing facility to fulfill the stringent sterility standards of the procedure. 
Full Equipment Package 
Winner Medical is in the business of producing angiography kits, which consist of items such as angiography drapes, syringes, tubing, table covers, microscope covers, angiography fluid bowls, towels, and gowns. These items are all sterilized with ethylene oxide to fulfill the sterility requirements of angiography. 
How to properly utilize the angio bundle offered by Winner Medical. 
1. Determine which configuration of the angio pack specs is most appropriate based on the clinical requirements to get the optimal surgical fit. 
2. While in a clean area, remove the packaging and put on protective gear such as gloves, a mask, and a surgical gown. 
3. Remove each component of the product and verify that the components in the package are unbroken and that the quantity corresponds to the information provided in the configuration table. 
4. Following the instructions, unfold and arrange the surgical sheet, and then prepare the surgical instruments by setting them up and getting them ready. 
Conclusion 
Through continuous innovation and continuous expansion of industrial boundaries, Winner Medical has developed from a single medical consumables manufacturer to cotton as the core raw material, mainly engaged in the research and development, production, and sales of cotton medical supplies, covering many fields. Obtained theEUCE certification, the US FDA certification, and the Japanese Ministry of Health and Welfare certification.At present, Winner Medical has 21 first- and second-tier wholly-owned and holding subsidiaries. Winner Medical's product quality is widely recognized internationally. angiography pack is no exception. Believe that their high-quality medical disposables can provide a boost to the medical industry.
The design of the disposable angio pack offered by Winner Medical has been meticulously improved to conform to the stringent standards for product quality that are imposed by medical facilities for angiographic accessories. The unwavering commitment to quality that underpins Winner Medical's operations inspires complete faith in the company's offerings. For further details, please check out their website.