Manufacturers of angio drape sheets include Winner Medical. They manufacture high-quality sterile drape sheets for the angio process that satisfy worldwide standards through technical innovation. The sterile drape sheet, which has received clinical approval from prestigious medical institutes, satisfies the criteria for surgical asepsis and eliminates the issue of sterile drape sheet waste.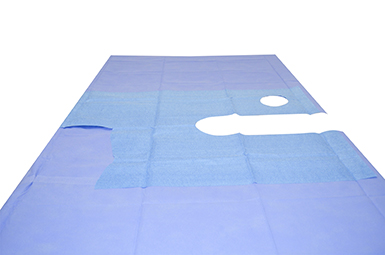 Winner Medical's sterile drape sheets have several advantages, including the following:
First, time management will be efficient and effective with the use of Winner Medical's comprehensive surgical pack product. Winner Medical provides sterile drape sheets in a range of sizes that are widely used in surgical procedures. Solutions that might reduce the time it takes medical staff to be ready for urgent treatments are available in the company's vast product catalog.
Second, dependable and trustworthy. The sterile angio sheets that Winner Medical sells are meant for single use and are produced by international standards for quality. Every stage of the product production process is completed at the purification workshop, from the sourcing of raw materials to the finished product's assembly. Reduce the possibility of early contamination and use sterilizing techniques that are carefully monitored and controlled to assure the cleanliness and safety of medical supplies.
The third is cost savings. Instead of recycling surgical supplies, it is more hygienic to use sterile angio sheets provided by Winner Medical that are packaged in angio surgical kits made by Winner Medical. Minimizing the quantity of cleaning and sanitizing that must be done, also saves time.
The fourth is expert design. Winner Medical's highly qualified medical development team chooses the configuration of components that are appropriate for various body parts based on the surgical characteristics of each location of the body.
Fifth is individualization. Winner Medical provides a variety of sterile drape sheet materials, as well as sterile drape sheet that has been specially designed for a particular surgical procedure, to meet the needs of a wide range of surgical procedures. For example, the well-designed angio drape sheet.
About Winner Medical: The Winner Medical team is aware of how crucially important quality and consistency are for medical products, so they have been working diligently throughout the development process to refine the products by the recommendations and e Winner Medical always approaches every step of the production process with the highest care and precision. We are sure that Winner Medical's products will make a significant contribution to the development of medicine and health care.