The main effect of silicone foam dressing has a certain effect of softening scars or controlling scar growth, so the role played in clinical practice is for scar removal. The main principle of this drug is to use silicone components to prevent the loss of moisture from the wound, thus keeping the original wound moist, which can improve the structure of the scar tissue, promote the healing skin keratinization, facilitate the regeneration of epithelial cells, thus promoting the flat wound healing, which can effectively prevent the scar proliferation reaction. Winner Medical, a professional manufacturer of silicone foam dressing, would like to introduce some of the features of silicone foam dressing today.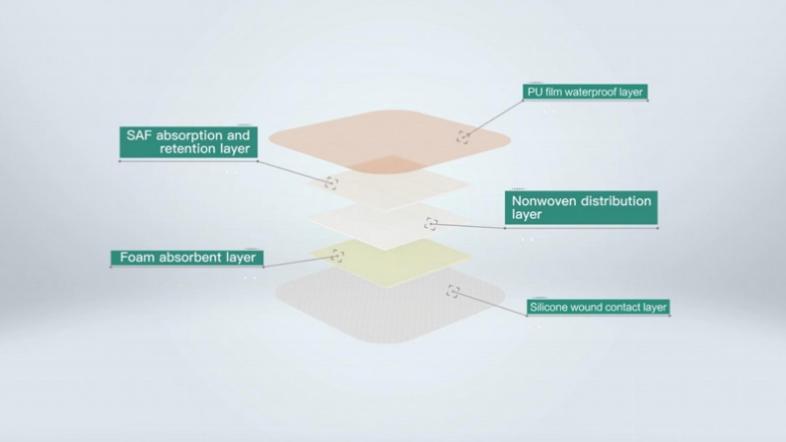 How does silicone foam dressing work?
When the skin is damaged, the barrier function of the skin is weakened and transdermal water loss increases, taking about a year or more to return to basal levels. When a silicone dressing is applied to the scar surface, it blocks the evaporation of water from the scar surface, reduces transcutaneous water loss, keeps keratinocytes in a hydrated state, which in turn downregulates the production of extracellular matrix by dermal fibroblasts and reduces scar proliferation.
Effects of silicone foam dressing
Silicone dressing is useful for scar removal. Its main raw materials are silicone and silicone antimicrobial agents, which can play a protective role on the trauma surface to a certain extent, thus inhibiting and reducing the proliferative scars caused by various reasons, such as surgical wounds, burns, and scalds, etc. It is mainly used in the case of light scars.
The advantages of self-adhesive silicone dressing are as follows.
1、It can be applied every day for a long time without causing skin allergy
2、Shape with the body, even in joints and other places can be applied freely
3、Reusable, economical and hygienic.
4、Can be applied to the exposed parts of the body without affecting the beauty
5、Easy to apply and remove, no extra fixation, no pain, and no injury when replacing
6、Easy to cut, according to the size of the scar to adjust the size of the product, before the removal of the protective film can be cut at will, economical and practical
7、Edges will not be rolled due to friction with clothes
Seek further information about Winner Medical's high-quality wound dressing products.