Silicone Foam Lite Dressing With Border Description
Layers:
1. PU film waterproof layer
2. SAF absorption and retention layer
3. Nonwoven distribution layer
4. Foam absorbent layer
5. Silicone wound contact layer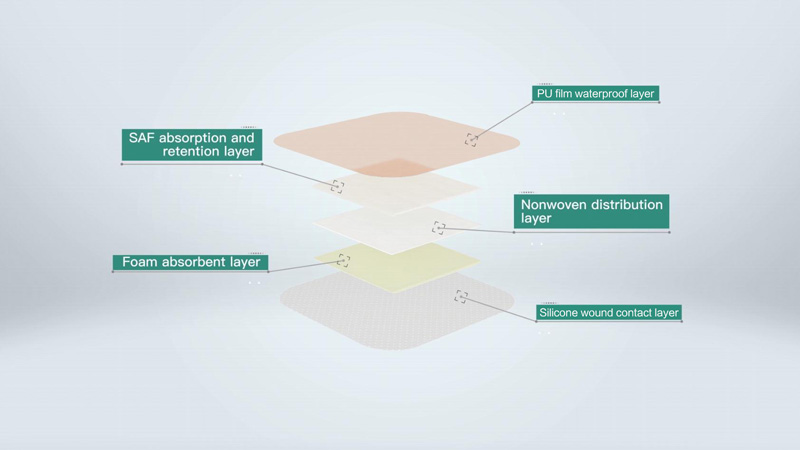 Applicable Population
Burns, pressure ulcers, arteriovenous ulcers patients, also used to seal cavity wounds. Repeatable self-adhesive, can open and observe any time.
Feature
Manage moderate to severe exudate wounds, such as leg ulcers, pressure ulcer, burns and traumatic wounds
Silicone Foam Dressing with Border Benefits
Quick and effective absorption, reduces the risk of skin maceration.
High breathable, waterproof and bacterial barrier top backing film maintains a moist healthy healing environment.
Self-adhesive ready to use dressing conforms to body contour, can be used on those hard to dress areaeasily.
Silicone Foam Dressing with Border Application
Foam dressing with silicone border is indicated for a wide range of moderate to highly exuding wounds, especially for the hard to dress area, for example
Pressure ulcer
Leg venous ulcer
Diabetic foot ulcer
First and second degree burns
Skin grafts and donor site
Post-operative and traumatic wounds