Silicone Foam Dressing With Border Description
Silicone adhesive foam dressing with border, an absorbent adhesive silicone foam dressing, consists of PU film waterproof layer, SAF absorption and retention layer, nonwoven distribution layer, flexible foam absorbent layer, and the soft silicone contact layer. With their diverse and powerful function, the silicone wound dressing with a border can promote wound healing through its high absorbency and considerate care.
Layers:
1. PU film waterproof layer
2. SAF absorption and retention layer
3. Nonwoven distribution layer
4. Foam absorbent layer
5. Silicone wound contact layer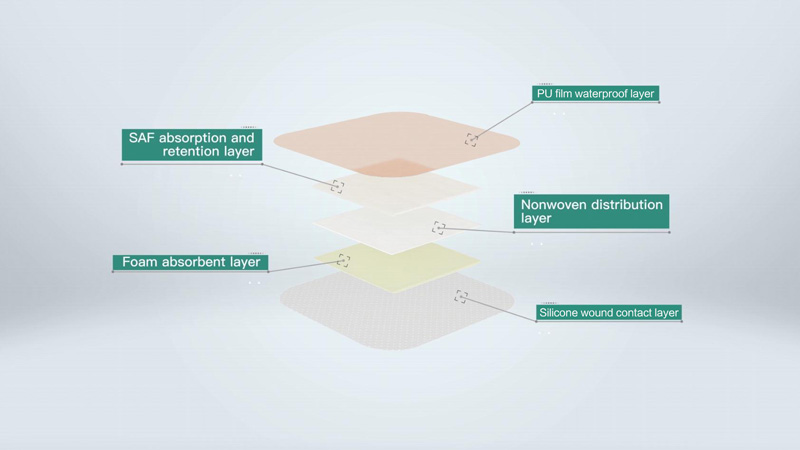 Applicable Population
Burns, pressure ulcers, arteriovenous ulcers patients, also used to seal cavity wounds. Repeatable self-adhesive, can open and observe any time.
Feature
Manage moderate to severe exudate wounds, such as leg ulcers, pressure ulcer, burns and traumatic wounds
Silicone Foam Dressing with Border Application
Adhesive foam dressing with silicone border has high absorbency and is indicated for a wide range of moderate to highly exuding wounds, especially for the hard-to-dress area. The application of silicone adhesive wound dressing may include:
1. Pressure ulcers

2. Leg and foot ulcers

3. Traumatic wounds (e.g. skin tears)

4. Surgical wounds and dry/necrotic wounds.