With the rapid development of science and technology, medical services are much more advanced and focused more on the technology used in medical care and surgeries. Advances in manufacturing techniques and new materials can be seen by everyone, which will contribute future of medical care services. Recently, medical-used disposables have also been a focus of the development of medical technology. This article will briefly introduce Winner Medical as a leading medical disposables manufacturer.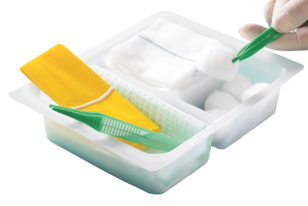 Winner Medical: Contribute to Make A Better Life
Winner Medical is a leading disposables manufacturer that focuses on providing top-quality products for professional medical care use. With more than 30 years of experience and dignity in the medical products manufacturing industry, Winner Medical has developed a unique and advanced approach to manufacturing that allows them to provide high-quality products with stable quality control which ensures the consistency of their product.
Long-Term Sustainability
One of the main advantages of applying Winner Medical products to professional uses is their ability to provide long-term sustainability. Unlike other disposable manufacturers, Winner Medical focuses on creating products that have consistently high quality. This not only reduces the time wastes in changing different products from the varied manufacturer but also helps increase the efficiency of medical care. In addition, Winner Medical products are designed for ease of use and compliance with ISO regulations, which are widely recognized by most EU countries, Japan, the U.S., and China.
Voice from Winner Medical
As a leading medical disposable products manufacturer in China, Winner Medical is known for its high quality and product consistency. Winner Medical has been manufacturing, developing, and manufacturing disposable medical products in its state-of-the-art factory for use in the operating rooms of medical institutions since 1991. More than 30 years of experience in the field can greatly show our dignity and professional techniques in medical manufacturing.
As Winner Medical takes a leading position in China and overseas, Winner Medical makes an effort to focus more on our reputation and continue to develop the Winner Medical trademark. With many local and international honors, awards, and recognitions, Winner Medical continues to be well received by the medical agencies and industry. The most substantive reason for all of these honors, awards, and recognition is the high quality of disposable surgical supplies, as well as comprehensive surgical disposable solutions, wound care solutions, and more.
Additionally, Winner Medical's products not only promote good quality surgical care but also benefit our environment, which will change the future of surgery.