Universal fenestrated drapes have been widely applied in major medical institutions all around the world. To prepare for surgery, the patient is draped with sterile blankets during this surgical process. It's an essential procedure that helps to keep the operating room sterile and safeguard patients from contamination and illness. However, understanding what universal fenestrated curtains are and when to apply them is not sufficient. And why are the high-quality fenestrated drapes so important?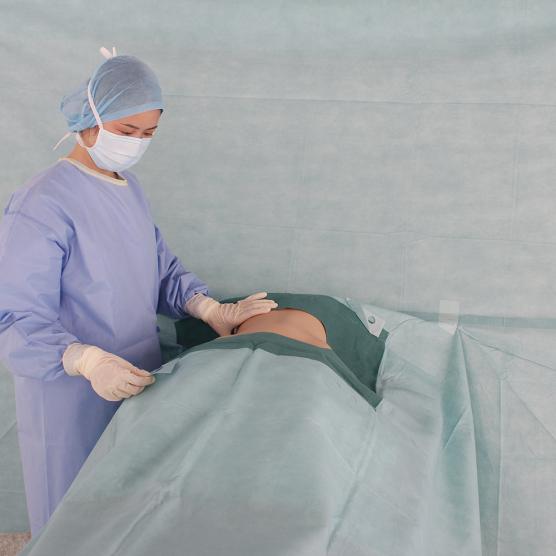 Introduction
A crucial component of surgery that helps the surgical team maintain a sterile environment is universal fenestrated drapes. Additionally, it aids in avoiding infections and other problems. The kind of universal fenestrated drapes to employ will depend on the need of specific kinds of operation. There are various varieties available. Knowing when to utilize universal fenestrated drapes is crucial.
Why is using a universal fenestrated drape important?
The surgical procedure relies heavily on universal fenestrated drapes. They aid in keeping the operating room germ- and infection-free. Additionally, they aid in shielding the patient from contact with blood and other bodily fluids. A disposable material, such as paper or plastic, is often used to create universal fenestrated drapes, which are draped over the surgical site before the treatment begins.
The value of universal fenestrated drapes in safeguarding the patient and the surgical team cannot be overstated. The danger of postoperative problems is decreased by universal fenestrated drapes' ability to maintain the operating room clean and infected-free.
When Winner Medical's universal fenestrated drapes should be used?
The use of Winner Medical's universal fenestrated drapes is a crucial surgical technique that promotes aseptic conditions and helps to prevent infection. It is frequently employed in abdominal or pelvic surgeries and is regarded as the gold standard in these kinds of operations. Even though global fenestrated drapes might not be required for all surgical procedures, it is crucial to understand when this kind of drape should be used.
When determining if a universal fenestrated drape is required, there are a few important factors that should be taken into account. First, whether or not a global fenestrated drape is required will depend on the type of surgery being performed. This kind of drape is often used for pelvic and abdominal operations because these procedures have a higher risk of infection. The surgeon may also take into account the patient's medical background and present state. The likelihood of an infection developing after surgery may increase if the patient has a history of infections or has a compromised immune system. Utilizing a universal fenestrated drape can help lower the risk of infection in these situations.
The kind of incision being performed is another aspect to take into account. When the incision is deep enough to enter the abdominal wall, it is usually covered with Winner Medical's universal fenestrated drape. Since they are small and can be concealed by clothing, minor incisions don't need to be draped.
Conclusion
An important component of any surgical process is the use of universal fenestrated drapes. It can assist in lowering the risk of problems and keeping the area germ- and infection-free. Make sure to choose a universal fenestrated drape that will fit the surgical demands precisely and is composed of high-quality materials. The appropriate global fenestrated curtains can shield the medical workers and the patients, and others from danger. In this industry, Winner Medical has been successful.