In some procedures involving large amounts of fluid spurts, protecting the surgeon from pathogens carried by body fluids is a constant concern during surgery. In addition to the proper wearing of masks, gloves, and protective spectacles, the protection of the body's mucous membranes should not be ignored. Today, we would like to introduce Winner Medical's high-grade protective gowns, they have the top level of protection to ensure that the doctor can be protected from infection during the surgery.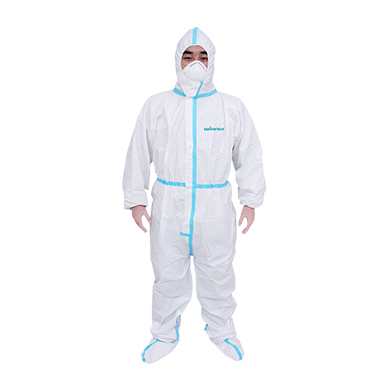 Hardcore Protection
Winner Medical offers a comprehensive line of protective gowns manufactured in strict accordance with the internationally recognized standards set by AAMI. In addition to the lower level of protection, Level 1 Level 2 protective gown, which is only suitable for daily primary surgery, Winner Medical's Level 3 Level 4 protective gown has exceptional quality and top-notch protection. This will provide strong protection for medical care.
Level 3: The Level 3 suit represents a suit that provides moderate liquid barrier protection. Compared to Level 1 and Level 2, Level 3 suits provide a higher level of protection. Such a suit can already be used in surgical procedures with moderate risk of fluid exposure, such as open abdominal and open cranial surgery. It can be said that Level 3 is the most used level of surgical gowns. Winner Medical's strict quality management system and product quality control system make Winner Medical very confident in their Level 3 gowns.
Level 4: Level 4 gowns represent the highest level of fluid and microbial barrier protection, especially in critical surgical sites, for the primary surgeon from blood-borne pathogens. This type of suit is suitable for surgical procedures where there is a high potential for fluid splashing and infiltration, including arterial and cardiovascular procedures and cesarean sections, and offers the highest level of protection available on the market today. Winner Medical is proud to say that its Level IV suits protect the lives of healthcare workers and reduce risks.
Conclusion
Winner Medical's L3 L4 suits are the perfect choice for healthcare workers facing large-scale surgery. They have a high quality and high protective effect, which constitutes good protection for the lives and health of healthcare workers. Visit the official website of Winner Medical for further information about the protective gown.