It is important to ensure you are all wearing the correct garments before any surgery. They are made of sterile materials and are usually green in color. Winner Medical's angiography gowns with U-shaped slits provide a safe barrier against fluid and bacterial penetration. In addition, sterile surgical gowns protect against blood-borne pathogens such as viruses and bacteria.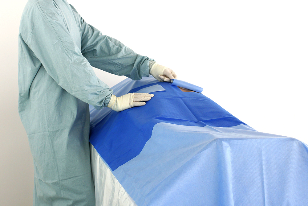 Green O.R.
Winner Medical follows the green O.R. principle about environmental protection. It employs high-quality biodegradable cotton as the primary raw material for surgical consumables, guaranteeing that the enormous amount does not place an undue strain on the environment. In terms of expertise, Winner Medical has a skilled R&D team aware of the problems associated with surgical supplies and works to develop the goods to improve the experience for doctors and patients.
Winner Medical's advanced manufacturing of sterile surgical gowns is the perfect solution for hospitals and medical facilities seeking to maintain a high level of sterility. These gowns are highly durable and feature tight-fitting, sealable seams that .
The importance of safe and comfortable angio packs
There are many reasons why you should buy angio packs. Safe and comfortable surgical gowns are essential for the patient and the surgeon.
A safe gown protects both the patient and the physician from potential injury. It should fit well, not impede movement, be easy to put on and take off, have adequate coverage to prevent skin exposure, be stain resistant, and have a secure closure.
When choosing vascular surgery gowns, be sure to consider your individual needs. For example, it is recommended to purchase high-quality hospital-grade angio packs.
Conclusion
Winner Medical is dedicated to creating and promoting innovative cotton-based materials for surgical consumables, with "cotton" at its core. Natural cotton is a smooth, cozy, and biodegradable material. Winner Medical develops more ecologically friendly solutions, such as surgical gowns, materials, and tools for particular surgical requirements by employing cotton in surgical consumables. They not only support high standards of surgical care but also help our environment, catering to the pursuit of "carbon neutrality". For further details, visit Winner Medical's official website.