Silicone foam dressing with border is a very absorbent silicone foam dressing made by Winner Medical. This supple silicone contact layer, pliable polyurethane foam pad, and waterproof, breathable outer membrane make up this very absorbent silicone foam dressing.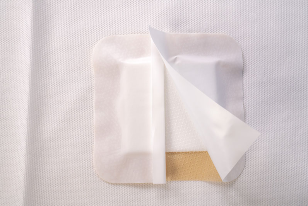 What is a silicone foam dressing?
A silicone foam dressing is a medical adhesive dressing made of silicone rubber. It is a soft, flexible material that adheres to the skin and creates a protective seal. Silicone foam dressings with a border can seal cavity wounds in patients with burns, pressure injuries, and arteriovenous ulcers.
Silicone foam dressings are available in various sizes and designs to accommodate various wound types. The adhesive properties of silicone foam dressings make them ideal for many wounds. They also absorb mild or moderate exudate and reduce peri-wound maceration.
Applying to wound care
The silicone foam dressings made by Winner Medical feature borders with a thin, low-profile edge. This lessens the chance that adhesion will be compromised while reducing the wear and strain the dressing endures. As a result, less frequent dressing changes are required, which is advantageous for the wound's external environment as it heals.
The polyurethane film base layer of the bordered dressing is breathable and waterproof. The film forms a seal around the wound and prevents fluid and bacteria from leaking. This film is also breathable, which allows the patient to maintain a higher level of comfort. In addition, The silicone foam dressing is exceptional at absorbing moisture and enabling it to evaporate due to its special multi-layer design, reducing the risk of skin maceration.
Certified Products
Winner Medical is a business with a full product offering for disposable medical products, particularly wound dressings. We have received numerous honors, awards, and recognitions on a local, national, and international level, making us highly valued in our field. The most important factor in these honors, awards, and recognitions is the availability of premium wound care products and all-inclusive wound protection, wound care, and other solutions.
Conclusion
With all the advantages already mentioned, Winner Medical's products do medical work and wound care more conveniently. Winner Medical products are renowned for their consistency and the constant, high level of quality control used.