A bordered foam dressing is an adhesive dressing commonly used on the skin to help simplify the process of treating certain wounds. It is made of foam that does not adhere to clothing and has a border around the wound. The border helps create a seal to keep bacteria out and better protect the wound.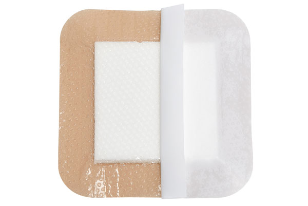 What is a border foam dressing?
A border foam dressing is a surgical dressing with a thin plastic or gauze border. A bordered foam dressing is typically used for a variety of moderately high exudate wounds, such as abrasions, ulcers, and burns. These dressings are made from various materials, including polyurethane, silicone, and cotton. Edged foam dressings have a layer of silicone on the outside, designed to help hold the dressing in place and reduce the likelihood of it falling off. They also have a SAF layer that retains the exudate absorbed by the dressing.
Advantages
A border foam dressing is an adhesive bandage with a foam border around it. This helps prevent the adhesive bandage from sticking to the skin and reduces the chance of irritation or infection. The benefits of using a border foam dressing include the following:
-It has a border, which allows for better sealing of the wound
-It helps to reduce swelling and redness caused by bandages that are too sticky, thus reducing the chance of irritation or infection spreading
-It has a breathable, waterproof polyurethane film backing and is resistant to bacteria.
Continue to Innovation
To successfully address the industry issue that conventional medical gauze is easy to produce debris, which may cause wound infection or even cause medical accidents, Winner Medical developed the technology of cotton spunlace nonwoven fabric, which is used for the first time in the field of medical dressing and wound care products. The nonwoven fabric's innovative use and improvement by Winner Medical, dubbed "the great innovation of the Chinese textile industry," is constantly being enhanced and innovated.
Since its establishment in 1991, Winner Medical has been creating and developing disposable medical goods. To consistently enhance the quality control of its products for use in operating rooms and ERs of medical facilities worldwide, Winner Medical constructed an automated factory that complies with high international standards.
Voice of Winner Medical
Since its inception, Winner Medical has loved superior surgical and wound care products and wound care solutions. The highest quality products are, in our opinion, the best evidence. Winner Medical's broad range of premium products is assured to deliver high-grade supplies and user-friendly use in large medical facilities' emergency departments and operating rooms. But more crucially, it will increase the output of such facilities and advance medical care for people. Visit the official Winner Medical website for more details!