The particulate respirator is designed to protect the wearer from injuries caused by airborne particles. In healthcare, it helps reduce exposure to biological aerosols containing bacteria and viruses. In addition, it is resistant to infectious fluids such as blood spills. In medical care, such particulate respirators are widely used in major emergency rooms and operating rooms for major surgeries. Emergency physicians also wear such particulate respirators when they go out to avoid being infected by splashes of blood and other fluids and to block aerosols containing viruses. Winner Medical, a leader in the particulate respirator industry, manufactures high-quality particulate respirators.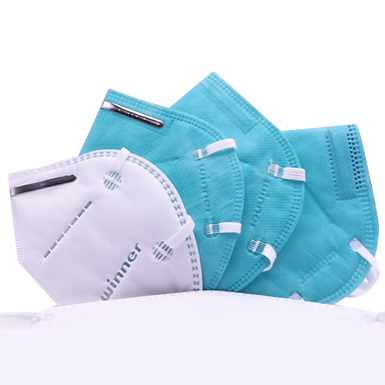 A Complete Product Line
Winner Medical offers a complete line of particulate respirator solutions. They can be thought of as enhanced masks with greater protection for work in large-scale, high infection risk applications. winner medical's respirator solutions include folded particulate respirator with a head strap, folded particulate respirator witan h earloop, and a flat folded particulate respirator.
Outstanding Design
Winner Medical's particulate respirator consists of 4 layers of non-woven fabric. The non-woven fabrics are produced by Winner Medical's high-standard automated factories in four locations in China, and the quality of these non-woven fabrics is guaranteed to be of the highest quality. The shape of the mask is divided into folded shape and arch shape, which correspond to different application scenarios. There are two types of ear straps: hedging type and hanging type ear straps, depending on the protection level, you can choose different ear straps to achieve the best protection effect. The noseband is made of two iron cores wrapped in aluminum or plastic, which has a better shaping effect. All of these designs make Winner Medical's masks industry-leading products.
Distinguishing Features
Winner Medical has been manufactured with ease of transport in mind. Winner Medical has designed their pellet respirators to be foldable, which will make them easier to store and transport. Also, Winner Medical manufactures particulate respirators that meet Chinese and European adhesion requirements, which makes them safe for clinical use. The respirator has a good facial fit, which maximizes safety
At the same time, Winner Medical's particulate respirators make innovative use of ultrasonic welding technology, which makes the joints softer and more comfortable to wear than using adhesive strips or metal parts to connect them, greatly alleviating various skin problems that occur when health care workers wear particulate respirators for long periods.
Visit Winner Medical's official site for further information.