Sterile drape sheets offer customized solutions for a variety of procedures, they are clean, sterile, flat, and robust, and are well suited to the needs of procedures of all sizes. sterile drape sheets from Winner Medical are of high quality and offer convenience to healthcare providers.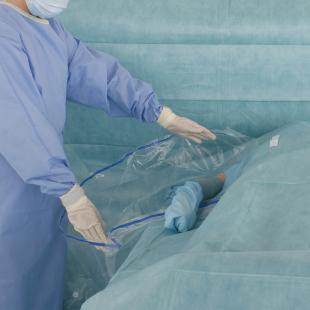 Outstanding Design
Ensure the normal operation of the surgeon: sterile drape sheets are widely used in each surgery, and the operation may involve a lot of blood outflow, the white cloth in the surgical light is particularly blinding, affecting the surgeon's operation. Winner Medical uses green non-woven fabric to manufacture sterile drape sheets, just to make up for this shortcoming. Even if the surgery is long, it will not cause visual fatigue to the surgeon and ensure the surgeon's normal operation.
Guaranteed Sterility
From the processing of raw materials to the manufacture of products, Winner Medical always puts product safety first in the manufacture of surgical products. And the influence factor that ranks first in safety must be the sterility of the product. Winner Medical is careful with the raw materials and uses machines to do most of the work to ensure the cleanliness of the products to the greatest extent. Raw cotton, spinning, weaving, bleaching and dying, and thorough processing and sterilization of completed products are all part of Winner Medical's comprehensive and effective industrial chain, which begins with the preparation of raw cotton. As a result of the entire process requiring almost no involvement from a third-party manufacturer and the fact that it is created by qualified production workers working within our supply chain, the quality of our products is guaranteed.
Quality Production
The manufacturing of sterile drape sheets is carried out using high-tech, imported machinery of industrial-grade size. Winner Medical has the same level of advanced equipment conditions as other companies in the industry. Additionally, the company does not need to rely on third-party factories in the processing of raw materials because it uses its equipment for processing. This allows the company to guarantee that high-quality raw materials are directly used in the production of products and prevents damage to the raw material's quality while it is in transit. To maintain consistency in quality, the manufacturing process for sterile drape sheets is fully automated and incorporated.
Conclusion
Winner Medical's sterile drape sheets are the preferred choice of healthcare providers, both in terms of design and in terms of quality control of production. Visit the official site of Winner Medical for detailed information.