The second China International Import Expo(CIIE) was held in Shanghai on November 5th. The expo is the world's first  import-themed national level exhibition, and is a major innovation in the history of international trade. There are more than 3,000 enterprises participated, including more than 250 of the world's top 500 enterprises and industry leaders.
At the CIIE on November 6th, Winner Medical and DuPont(China) signed a strategic cooperation. The two parties will carry out in-depth cooperation in the field of medical personal protection, new materials and new technologies in terms of dual brands.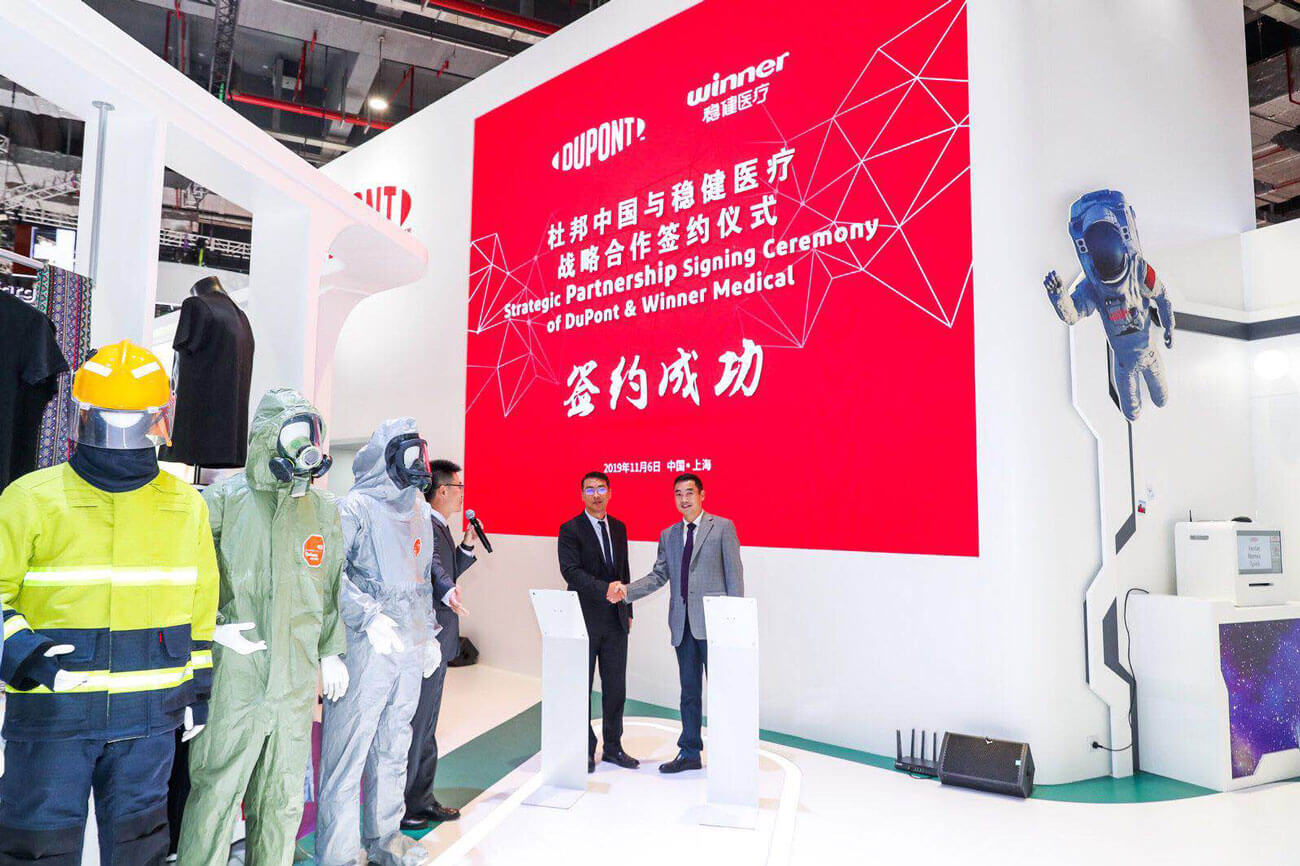 Winner Medical as a major exporter of medical dressings in China. It provides a large number of disposable medical supplies to the world each year and is a benchmark enterprise of the Chinese medical dressing industry. In the overseas market, Winner Medical's supplies are exported to more than 70 countries around the world, and it have established long-term and stable cooperative relations with many international famous brands. In the Chinese market, Winner Medical's supplies have entered more than 2,000 hospitals and more than 40,000 pharmacies, most of them are third-class hospital, and have in-depth strategic cooperation with China's top 100 chain pharmacy.
DuPont is a global innovation leader in technology-based materials, raw materials and solutions. DuPont(China) Group Limited is the first wholly foreign-owned investment company approved by the Chinese government. Currently, it has approximately 3,500 employees in mainland China, two R&D facilities and an innovation center for products and services in electronics, transportation, construction, water treatment, health and wellness, food and work protection. Is committed to become one of the global innovation enabler brings innovation for all industries and people's daily life.
The strategic cooperation between Winner Medical and DuPont Tyvek brand will promote the protective suit series to protect ten millions of medical workers from SARS, H7N9, Ebola and other viruses endangering. Aiming to improve the protection level of hospital infection control industry and escort people's beautiful life.