Winner Medical is one of the top disposable surgical drape manufacturers. They manufacture high-quality sterile drape sheets that satisfy worldwide standards through technical innovation. The sterile drape sheet, which has received clinical approval from prestigious medical institutes, satisfies the criteria for surgical asepsis and eliminates the issue of sterile drape sheet waste.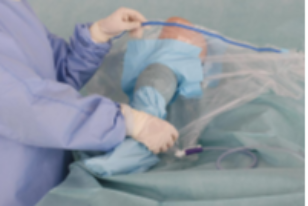 Winner Medical's surgical drape sheets have several advantages, including the following:
First, make efficient and cost-effective use of your time. Winner Medical provides sterile drape sheets in various sizes that are widely used in surgical procedures. Solutions that might reduce the time it takes medical staff to be ready for urgent treatments are available in the company's vast product catalog.
Second, reliable. The surgical drape sheets Winner Medical sells are meant for single use and are produced by international standards for quality. Every stage of the product production process is completed at the purification workshop, from sourcing raw materials to the finished product's assembly. Finally, reduce the possibility of early contamination and use sterilizing techniques that are carefully monitored and controlled to ensure the cleanliness and safety of medical supplies.
Third, cost savings. Instead of recycling surgical supplies, it is more hygienic to use surgical drape sheets provided by Winner Medical that are packaged in packs made by Winner Medical. Minimizing the quantity of cleaning and sanitizing that must be done saves time and money.
Know about disposable surgical drapes
Disposable surgical drapes are made of soft, thin, nonwoven fabric and come in various widths to fit patients of any size. Disposable surgical drapes are sterile cloths placed on the patient during surgery. They can be used during surgery to protect patients from blood, fluids, and other debris.
Conclusion
Winner Medical's disposable surgical drapes are an important part of any operating room for patient and surgeon protection. They come in various sizes and can be easily changed between surgeries. They protect the patient from exposure to body fluids and help keep the environment clean. However, they must also be handled with care to prevent them from being damaged or contaminated.