Everyone has seen and heard about the importance of open laparotomy drapes. They've been around for a long time, but do you know the history behind them? This blog post will explore how they are made, what types of drapes are available, and how they help medical staff perform surgery.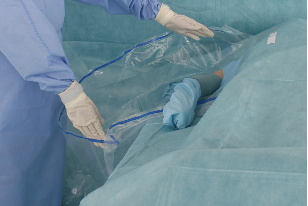 The importance of laparotomy drapes
The importance of laparotomy drapes is undisputed. These drapes help protect the patient and themselves while undergoing the procedure. Laparoscopic surgical drapes are available in various materials, including cotton, polyester, and surgical mesh. The main purpose of these drapes is to prevent contaminants and fluids from coming in contact with the patient or their surgical instruments.
Why use laparotomy drapes?
Laparoscopic gowns are an important part of any medical team that performs surgery. Laparoscopic drapes help reduce the potential environmental and surgical risks to which the patient is exposed.
Laparoscopic gowns have another important purpose: they help keep surgical areas clean. For example, suppose a patient develops bacteria or other contaminants on their skin during the procedure. In that case, laparoscopic gowns will help prevent them from entering the surgical area and potentially harming the patient.
How do I use a laparotomy drape?
The laparotomy drape is a surgeon's most important tool during surgery. It helps keep patients warm, protects them from injury, and makes the procedure safe and efficient. Here are four tips on how to use an open surgical drape
1) Ensure the peritoneum is long enough to cover the patient's body.
2) Make sure the peritoneum is tight enough not to move or fall off during the procedure.
3) If you need to operate on the patient's stomach or small intestine, use separate open surgical drapes for those areas.
Advantages of raw materials and manufacturing
Advantage of raw materials: Winner Medical is meticulous in its raw material selection and sets a high value on the raw materials used in its products. Winner Medical guarantees the excellence and uniformity of the raw materials at the point of origin and the component suppliers' qualifications to preserve the supply's quality over time.
Advantages of manufacturing: Winner Medical employs its raw material processing machinery to assure the high quality of raw materials used directly in product production and to guard against raw materials' quality being harmed during transportation. As a result, Winner Medical can process raw materials with the same degree of cutting-edge equipment as the industry, eliminating the need for outside companies.
Visit the official Winner Medical website for more details.