Winner Medical's high-quality angiography pack is the perfect choice for any medical facility. From its soft and comfortable material to its unique design, this drape sheet is ideal for shielding patients during any medical procedure. Learn more about the features of this product and why it's an excellent choice for your medical facility in this blog article!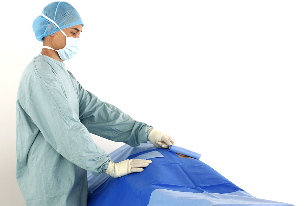 Angio drape sheets from Winner Medical are designed to help medical staff be ready for urgent treatments. The sheets are made of a high-quality material that is durable and easy to clean. They are also designed to be comfortable for patients.
Durable and trustworthy
As a medical professional, you know that when it comes to patient care, Dependable and trustworthiness are two of the most important qualities to look for in a product. Winner Medical's angio drape sheet is a high-quality, dependable, and trustworthy product that you can count on to provide the best possible care for your patients.
Our angio drape sheet is made from polyester or cotton fabric, which is absorbent and breathable. It's also lint-free and non-stick, so you can be sure that it won't irritate your patients' skin or cause any unwanted bleeds. Plus, it's machine washable and reusable, so that you can use it repeatedly without any worries.
Expert design
As the leading provider of angio drape sheets, Winner Medical is committed to offering the highest quality products on the market. Our expert design team has over 30 years of experience developing and manufacturing medical supplies, and we use only the finest materials to create our products.
Our angio drape sheets are made from a special blend of polyester and cotton that is absorbent and comfortable for patients. They are also highly durable and can withstand multiple items of washing. We offer a variety of sizes and styles to meet the needs of any medical facility, and a satisfaction guarantee backs our products.
Contribute to medicine and healthcare.
As a leading manufacturer of medical drapes and gowns, Winner Medical is committed to providing high-quality products that contribute to the development of medicine and health care. Our angio drape sheet is made from cotton or polyester, which is durable and absorbent. It is also lint-free and provides an excellent barrier against fluids. The angio drape sheet is available in various sizes to meet the needs of different medical procedures. If you are looking for the best angio drape sheets available, visit the official website of Winner Medical!