Winner Medical produces a versatile one-piece foam wound dressing with a border that may be used in various situations. These dressings can be purchased in various shapes, sizes, and formulations. Pressure ulcers, ulcers of the leg and foot, and wounds caused by trauma are some types of wounds that can be treated with the dressing. Additionally, it has been demonstrated in clinical trials that foam wound dressings with borders can be helpful in the treatment of pressure ulcers.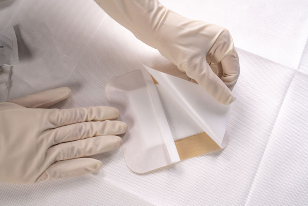 Gentle adhesion
Foam wound dressings are medical dressings that form a pressurized layer between the skin and the underlying tissue. Foam dressings are commonly used for burns, cuts, and other injuries. They are also popular among health professionals because they are economical, soft, have high absorbency, have better retention, and provide gentle adhesion.
Nonwoven layer: good distribution of exudate
Health professionals need silicone foam dressings with borders for several reasons. First, these dressings effectively distribute exudate evenly over the wound site. Second, they keep the wound clean and free of debris. Finally, they provide isolation from harsh environmental factors.
The layer of non-woven cloth that was folded over itself is then responsible for spreading the exudate uniformly across the entirety of the inner surface. Because the exudate is effectively absorbed inside, there is a greatly reduced risk of leakage and maceration.
Last but not least, the highly breathable but shower-proof back sheet not only extends the amount of time that the dressing may be worn, but it also protects the wound by preventing bacteria and viruses from entering the wound and keeping it a stable internal environment for the wound.
Features
Winner Medical's silicone wound dressing with a border has an innovative multi-layer construction that helps dynamically manage wound exudate levels. This creates a moist environment for wound healing and prevents maceration of the wound edges and the skin surrounding the wound. Winner Medical's silicone foam lite dressing with a border is available.
Additionally, the silicone foam dressing with a border that Winner Medical provides establishes a watertight seal, which will considerably improve the patient's quality of life if the dressing is left in place and is not damaged.
Conclusion
The foam wound dressing is less likely to harm the healing tissue because it does not stick to the wound. In addition, the backing of the lite foam dressing prevents the dressing from ripping easily and produces an external environment for the wound that is unidirectional but sufficiently closed. This is an excellent method for the healing of wounds.
Visit the official website of Winner Medical to acquire extra information on the excellent products they have available for purchase.