Medical professionals rely on various specialized products to protect against infection and prevent the spread of illness. One such product is the disposable surgical drape, which has been a staple in operating rooms across the world for many years. They provide an extremely high level of safety because they are disposable. They are sanitized at the manufacturer to preserve the patient's life. In this article, we'll focus on Winner Medical, a reputable supplier of medical supplies that offers complete surgical solutions, including superior disposable surgical drapes.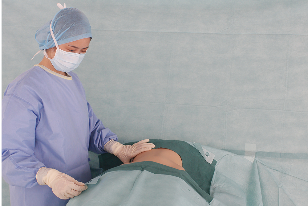 A barrier against bacteria for patients undergoing surgery
A surgical drape is a crucial barrier between patients and bacteria. The disposable surgical drape from Winner Medical provides an effective barrier against bacteria for patients undergoing surgery. The drape is made of medical-grade fabric impermeable to fluids and bacteria. It is also hypoallergenic and does not make by natural latex. The drape is available in various sizes to fit different surgeries. The drape can be removed easily after surgery without causing any pain or irritation to the skin.
Benefits of Disposable Surgical Drapes Winner Medical
As the global leader in the disposable surgical drape market, Winner Medical is committed to providing high-quality products that offer superior performance and patient outcomes. The benefits of using our disposable surgical drapes include the following:
1. Improved patient comfort: The material used in our disposable surgical drapes is soft and comfortable, which helps to improve patient satisfaction.
2. Enhanced operating efficiency: The unique design of our disposable surgical drapes allows for quicker and easier set-up and removal, which can help to improve operating room efficiency.
3. Cost-effective: Our disposable surgical drapes are an economical solution that can help to save your facility money.
4. Winner Medical developed a packing design for disposable surgical drapes that is portable and easy to carry. The sheet is wrapped and folded correctly.
Conclusion
In conclusion, Winner Medical's disposable surgical drape offers a reliable and cost-effective way to fight against illnesses. With its superior breathability, comfort, and high level of protection from contamination, the drape provides an effective solution for medical personnel looking to ensure that their patients remain safe during surgery. Visit Winner Medical's official page if you are interested in their disposable surgical drapes!