Laparotomy is one of the most common surgical procedures; it requires an effective sterile drape to protect the patient from any potential contamination. Winner Medical has developed a fenestrated sterile drape ideal for laparotomy surgery. Discover more about this revolutionary technology and how it can help create safer, healthier environments for patients during their operations.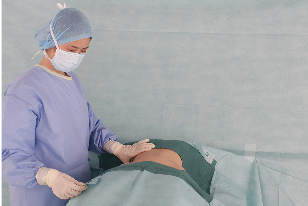 Excellent Design
Winner Medical is a leading manufacturer of fenestrated sterile drapes used in various medical procedures. The company's products are made from high-quality materials designed to provide optimal patient outcomes.
The fenestrated sterile drape is a new type manufactured by Winner Medical. This drape is designed to provide higher sterility assurance than traditional sterile drapes.
Winner Medical's fenestrated sterile drapes are available in various sizes and shapes to fit each patient's specific needs. A satisfaction guarantee also backs the company's products, so patients can be confident they receive the best care.
Good Production
A fenestrated sterile drape is a type of medical drape with one or more openings, or fenestrations, allowing access to the patient while maintaining a sterile field. Fenestrated sterile drapes are used in a variety of medical procedures, including but not limited to the following:
-Open heart surgery
-Transoral surgery
-Laparoscopic surgery
-Arthroscopic surgery
Winner Medical, a leading medical supplies and equipment manufacturer, manufactures fenestrated sterile drapes. Winner Medical's fenestrated sterile drapes are made from high-quality materials designed for optimal patient care and safety. Winner Medical's fenestrated sterile drapes are available in different sizes and styles to meet the needs of any medical procedure.
Winner Medical's cutting-edge equipment conditions are equivalent to those of other companies in the industry. Additionally, the company handles the processing of raw materials internally and is not reliant on external facilities. This allows the company to ensure that superior raw materials are used directly in manufacturing products while protecting the raw materials' quality during shipment.
Conclusion
Winner Medical's Fenestrated Sterile Drape is a remarkable product that offers medical professionals an effective way to reduce the risk of infection and contamination in their practice. This innovative product has been designed with safety and hygiene standards, providing a safe environment for patients and healthcare workers. Winner Medical's commitment to excellence makes this a must-have item for any medical office or institution looking to provide the safest possible care for their patients.