Surgical gowns are necessary for many medical professionals and serve as a safety barrier for sterile areas during surgery. In this article, learn about surgical gowns to make the best decision for your needs.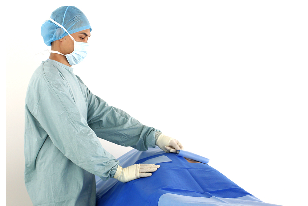 Surgical Gowns from Winner Medical
Surgical gowns are an important part of any medical professional's closet. They provide a barrier between the patient and the doctor, protecting both from cross-contamination. But with so many different types and brands on the market, how can you know which is right for you?
That's where Winner Medical comes in. We are a leading manufacturer of surgical gowns, offering high-quality products that meet the needs of doctors and patients alike. Our surgical gowns come in various styles so that you can choose the best fit for your needs. And because we use only the highest quality materials, you can be sure that our surgical gowns will stand up to the most demanding surgical procedures.
Winner at a Glance
Winner Medical has garnered widespread recognition for its leadership position in the Chinese medical business. With numerous local and worldwide accolades, awards, and recognition, medical solutions such as high exudate wound dressing, advanced wound care, and surgical packs have been consistently praised by society and the industry.
Winner Medical: Established in 1991, Winner Medical aims to supply high-quality surgical and medical solutions for medical agencies worldwide. Winner Medical has constantly provided disposable medical items for over 20 years. Winner Medical is the top producer of surgical packs, wound care supplies, and other medical packs in China and is progressively gaining recognition from customers around the globe.
Modern manufacturing techniques are employed to create Winner Medical's products, which include a range of disposable surgical supplies like gloves, masks, surgical gowns, and more.
Winner Medical can make the most of its unique technology to create better and more cutting-edge disposable medical products for healthcare facilities, continuing to advance gradually in the direction of wellness, ecological sustainability, and medical advancement.
Conclusion
Surgical gowns protect the wearer from exposure to blood and other body fluids. If you are looking for a surgical gown that offers superior protection and comfort, look to Winner Medical. Contact us today to learn more about our products and how we can help you provide the best care for your patients.