The article discusses the importance of wearing protective gowns. Unfortunately, many people don't realize the importance of wearing protective clothing in potentially dangerous situations, but they can come in handy in almost any dangerous situation..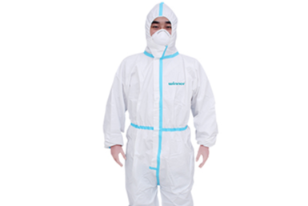 Introduction
Protective clothing is required when performing high-risk medical activities, as exposure to viruses or bacteria can cause serious health problems.
For doctors performing surgery, wearing the right protective clothing can help protect against the virus. Protective clothing is protective gear that includes gloves, face shields, and a full-face respirator.
Materials for making protective clothing
The role of medical protective clothing is to produce a bacterial barrier to prevent bacterial migration and reduce cross-infection. In recent years, most medical protective clothing is mainly made of non-woven fabrics. Medical protective clothing can be divided into woven, non-woven, and composite materials according to the organizational structure of the fabric.
Currently, the non-woven materials used in medical protective clothing include the following.
1. Polypropylene Spunbond Fabric
Polypropylene spunbond cloth can be treated with antibacterial and antistatic to make antibacterial protective clothing, antistatic protective clothing, etc. Polypropylene spunbond protective clothing is undoubtedly a big improvement compared to traditional cotton protective clothing. Because it is a one-time use, it can greatly reduce the cross-infection rate.
2. Polyester fiber and wood pulp composite cloth
The material is soft to the touch, close to traditional textiles, and can be treated with three antibodies (anti-alcohol, anti-blood, anti-oil), antistatic, and antibacterial. It is a good medical protective clothing material.
3. Polyethylene breathable film/non-woven composite fabric
Polyethylene breathable film/non-woven fabric composite material has an excellent effect on blocking bacterial particle penetration and liquid penetration. The hand feel can be adjusted by changing the softness of the composite fabric. It has strong tensile strength, good air permeability, and comfortable performance. It is greatly improved, does not contain toxic components, and has a gram weight of 60~100g/m2. The medical disposable protective clothing made of it can protect medical staff from pollution by pollution sources, overcome cross-infection, and play an effective protective role.
Here are a few reasons why medical personnel must wear Winner Medical protective clothing:
1) Infection Prevention: Wear protective clothing to protect yourself when you need to come into contact with hazardous materials or during highly infectious surgical procedures.
2) Effective: Winner Medical's protective clothing is produced under the production standards of professional protective clothing, is widely used in the medical industry, and is very trustworthy.
3) Convenience: Disposable protective clothing is generally packaged separately, which is easy to use and can be discarded immediately after use.