A surgical pack is a type of wound care supplies used during surgery. It includes sterile gowns, masks, and gloves. The article you are about to read will explore the components of these packs in detail and describe how they are sterilized.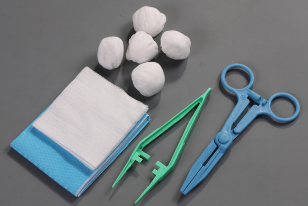 What Are the Components of a Surgical Pack Made of?
A surgical pack is composed of some different components. At Winner Medical, a generic surgical bag often contains the following items:
1) One tray and two compartments; the tray can be used to hold all the items in the surgical kit for easy access.
2) A 60ml Gallipot for used cotton or medicine.
3) 4 medium latex gloves worn by doctors to prevent intraoperative infection.
4) 5 sheets of non-woven sponges and 1 piece of paper towel, 7.5x.7.5cm-4ply and 38x43cm in size, are generally used for intraoperative cleaning.
5) A yellow disposable bag and a blue sterile packaging area.
How are surgical packs kept sterile?
The surgical pack is a combination package of various medical equipment and medical dressings. To effectively prevent infection of bacteria and viruses, it is necessary to pay attention to the careful disinfection of the surgical packs and the items it contains. The following are common surgical packs disinfection methods:
1. Generally, high-temperature and high-pressure steam are used for disinfection; in some places, ethylene oxide sterilization technology is used.
2. After the sterilized surgical packs are packaged, it is necessary to paste the instruction tape to indicate the package name of the surgical packs and the effective date of disinfection. Generally, in a dry and ventilated environment, the validity period of ordinary surgical packs is 7 days.
3. After the surgical package is unpacked, take out the indicator tape to check whether it has changed color.
Why Choose Winner Medical?
Winner Medical's surgical packs contain disposable medical supplies such as latex gloves, sterile sponge cloths, and disposable bags. Different types of surgical packs can be used in different surgeries, and all surgical packs have been tested for safety and sterilized, making them very safe and effective.
Conclusion
A surgical pack is essential for any surgery. They contain medical supplies for various procedures and must also be professionally sterilized to ensure sterility. Winner Medical's surgical kits meet such sterility needs.