Winner Medical, a professional manufacturer of
operating gown
, introduces things to consider when choosing operating gowns for medical care.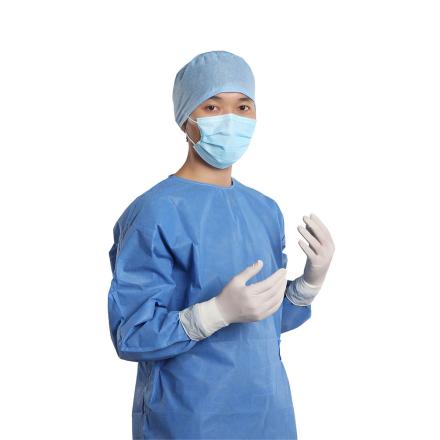 Material: What is the operating gown made of?
Operating gowns are made of polyethylene or polypropylene. Synthetic materials usually do a better job of blocking fluids and are more suitable than cotton for preventing the spread of germs such as COVID-19.
Risk Levels
The risk level of the environment and the expected range of exposure determine which type of operating gown you should wear; for example, in a low-risk environment (such as a blood draw), medical professionals would need a regular operating gown.
How to put on and take off the operating gown?
The ease of putting on and taking off the operating gown affects effective protection and the likelihood of infection, especially when taking off a contaminated operating gown.
Medical Professionals
For healthcare workers who are engaged in exposure to body fluids at low or minimal risk, operating gowns claiming to have a minimum or low-risk level of barrier protection may be used.
For medium to high-risk levels of contamination and where a wider sterile area is required, operating gowns claiming medium to high barrier protection may be used.
Comfort and convenience, both of them matter
Winner Medical's operating gown provides excellent convenience for the wearer. In addition to the comfort and breathability of a good operating gown, which allows medical staff to work for long periods, the design of the operating gown also provides storage space for medical staff to carry medical equipment like a stethoscope.
As medical practitioners work for long hours wearing the operating gown, the fit and flexibility of the operating gown will greatly affect the performance of the professional. Choosing an operating gown that fits their body type and shape is particularly important. Good clothing will allow them to move freely and withstand long hours and intense surgical work.
While providing ventilated, breathable and durable gowns, Winner Medical also wants professionals to be more comfortable. Using high-quality non-woven fabrics and innovative designs, Winner Medical's surgical gowns are also notable for their comfort. Winner Medical meets the needs of medical professionals who work long hours and consider comfort as a second priority, in addition to safety, by producing surgical gowns that combine comfort and safety.
Conclusion
Winner Medical's operating gown has excellent design and superb protection, providing protection and comfort for healthcare workers. Visit their official website for more information.