As hospitals become increasingly reliant on advanced medical technology, the need for disposable surgical gown in a hospital setting has become more and more apparent.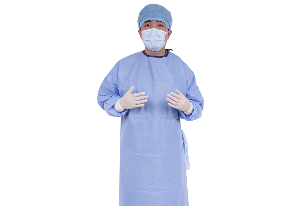 Disposable surgical gowns in a hospital setting
In a hospital setting, disposable surgical gowns play an important role in protecting patients and staff from the spread of infection. Surgical gowns are made from a variety of materials, including polyester, polyethylene, and polypropylene. They are available in a variety of colors, sizes, and styles.
When selecting a disposable surgical gown, it is important to consider the type of procedure that will be performed. For example, some gowns are designed for use in procedures where there is a high risk of infection, such as surgery on an infected wound. Other gowns may be used for procedures where there is a lower risk of infection, such as a routine physical examination.
It is also important to consider the comfort of the patient and staff when selecting disposable surgical gowns. Some gowns are made with softer materials that are more comfortable to wear for long periods of time. Others are made with more breathable materials that help to keep the body cool during procedures.
The cost of disposable surgical gowns varies depending on the material, style, and size. However, most gowns are reasonably priced and can be found at most medical supply stores.
Why are they needed?
How do they help?
Surgical gowns are an important part of an infection prevention protocol in a hospital. By using disposable surgical gowns, hospitals can help reduce the spread of infection.
Surgical gowns are made from a variety of materials, including paper, plastic, and textile. They are typically loose-fitting and have long sleeves to protect the arms and hands from contact with contaminated surfaces.
Gowns can be worn over scrubs or other clothing to create a barrier between the skin and potential contaminants. When removing a surgical gown, it is important to avoid touching the outside of the gown, as this can transfer germs to the skin.
Hospitals typically have a variety of gowns available, depending on the type of procedure being performed. Some gowns are impermeable to fluids, while others allow for more breathability.
The use of disposable surgical gowns helps to reduce the risk of cross-contamination and infection. Gowns should be removed carefully and disposed of properly after each use.
Conclusion
Disposable surgical gowns are an essential part of any hospital setting. Winner Medical is a renowned medical outfitter and surgical gown provider in China.  They offer a wide variety of traditional and modern surgical gowns to meet the needs of medical professionals around the country. Winner Medical gowns are made of high-quality materials, including hydrophobic SMMS material, ensuring comfort and providing excellent protection against infection. Both patients and physicians highly value the superior design and quality of Winners Medical standard surgical gown.