Preventing pandemics and other infectious diseases is an important part of protecting public health, and using protective clothing is an important aspect of this effort. Since 2020, new crown outbreaks have made protective clothing even more important. Protective gowns and other surgical supplies play a key role in the fight against the disease.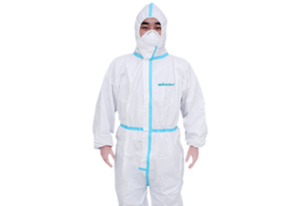 Professional Manufacturer
Protective clothing plays a key role in preventing pandemics. They are made of various materials, including cotton, rubber, and cloth, and are designed to protect the wearer from contact with infectious diseases. Protective clothing is often used in medical settings, such as hospitals, clinics, and laboratories, where there is a risk of exposure to dangerous pathogens.
A professional protective clothing manufacturer will have a detailed understanding of the potential risks of various pathogens and how they are transmitted. Protective clothing produced by a professional manufacturer will undergo rigorous testing to meet all safety and performance standards. This testing will help ensure that the gowns are resistant to a wide range of pathogens and avoid the transmission of viruses carried by body fluids or secretions to healthcare workers.
A professional protective clothing manufacturer will also strongly commit to quality and customer service. This means that they will stand behind their products and provide support in any problems. Winner Medical's products are made from high-quality raw materials and subjected to rigorous quality testing during manufacturing.
Protecting the lives of healthcare workers
Protective clothing is one of the most effective ways to protect healthcare workers. Protective clothing is made of waterproof materials that prevent the spread of pathogens from one person to another.
Protective suits are typically worn during procedures that involve contact with blood or other body fluids, such as surgery or patient care. Protective gowns may also be worn when caring for a patient with an infectious disease such as COVID-19. Healthcare workers also require protective clothing when doing nucleic acid testing on a population.
While protective gowns are an important part of preventing the spread of infection, they are not foolproof. Healthcare workers must still take precautions such as frequent hand washing and avoiding contact with contaminated surfaces. In addition, they must be removed properly and disposed of as medical waste.
Conclusion
The quality of Winner Medical's protective gown has been commonly regarded by consumers worldwide, and Winner Medical's protective solutions have permitted a huge variety of healthcare workers worldwide to be protected.