The protection of the attending surgeon is also a very critical part of the surgery. Splashes of body fluids can occur at any time during surgery, so having thick, high-quality disposable surgery gowns is critical. Thick surgical gowns can effectively prevent the surgeon from occupational exposure and the spread of infectious diseases.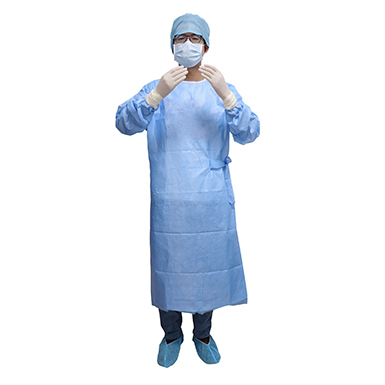 What Are High-Quality Surgical Gowns?
High-quality surgical gowns tend to have the following characteristics.
They should be soft and breathable. Surgical gowns are overalls that provide protection as well as a barrier to the attending surgeon, and they are single-use. Surgical gowns need to be soft in material because the surgeon needs to perform delicate surgical operations and soft gowns will not pose an impact on the surgeon's operations. They need to be breathable because surgeons need to work on the operating table for relatively long periods, and materials that are not breathable can easily lead to discomfort for the primary surgeon and affect surgical safety.
They need to be made of high-quality raw materials. Surgical gowns are contraindicated for problems such as the falling off of cotton wool. Surgical gowns also need to meet the sterility requirements of the surgery. Falling lint may fall into the patient's body and cause a surgical accident.
They also need to have large coverage. The surgeon's body parts facing the patient should be covered in the gown. Surgical gowns are not only for the protection of the attending surgeon but also for the protection of the patient on the operating table.
Why Surgical Gowns from Winner Medical is Superior?
Winner Medical's surgical gowns are designed to meet the protection requirements of surgeries of different time lengths and scales. From general abdominal surgery to infectious disease carrier surgery that requires full protection, Winner Medical offers a selection of high-quality gowns.
For common abdominal procedures of short duration, Winner Medical has optimized the breathability of the gown. Winner Medical's innovative design uses multi-layer composite materials to manufacture gowns that protect with breathability and softness.
For large-scale surgeries that require special protection, such as surgery on patients with infectious diseases, Winner Medical also offers surgical isolation gowns with superior protection for medical staff. These surgical gowns are made of thicker fabrics and are optimized for liquid splash protection.
Conclusion
In summary, Winner Medical's high-end surgical gowns offer high-quality optimization of surgical procedures as well as the most basic prevention of infectious diseases. The high quality of the gowns and the superior design will certainly bring some convenience to the work in the operating room.