Disposable surgical gowns have to be made quickly and correctly to meet the growing demand of the surgical gowns. The author discusses a few ways to produce disposable gowns safely in this article.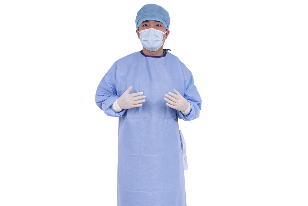 What are Disposable Surgical Gowns?
Disposable surgical gowns are gowns made of a disposable material that is thrown away after being used. They are often used during surgeries to protect doctors from potential infection. There are many different types of disposable surgical gowns, but the most common are polypropylene.
Why We Need Disposable Surgical Gowns in Hospitals?
There are many reasons why hospitals need disposable surgical gowns. One reason is that they help prevent the spread of infection. When patients wear disposable surgical gowns, it helps prevent the spread of infection from their bodies into the environment. This helps reduce the spread of infection in a hospital setting. In addition, disposable surgical gowns also help reduce medical costs.
Conditions to make disposable gowns
Winner Medical insists that a few key conditions must be met to make disposable gowns as fast, safe, and efficient as possible.
1. sterile workshop
2. professional research lab
3. the safe source of material
4. efficient manufacturing process. By streamlining the process, manufacturers can minimize the time it takes to produce a disposable gown, reducing waste and improving safety.
Commitments from Winner Medical
Winner Medical has provided doctors with the safest and most efficient disposable gowns for many years. New products show how well and professionally they are made. They are excited to offer this new service to our patients and look forward to continuing to impact their healthcare experience positively.