Laparotomy drapes are an important part of a hospital room because they can help with privacy and comfort. But it's not enough just to know what Laparotomy Drapes is - when should you use it? And why does it matter so much?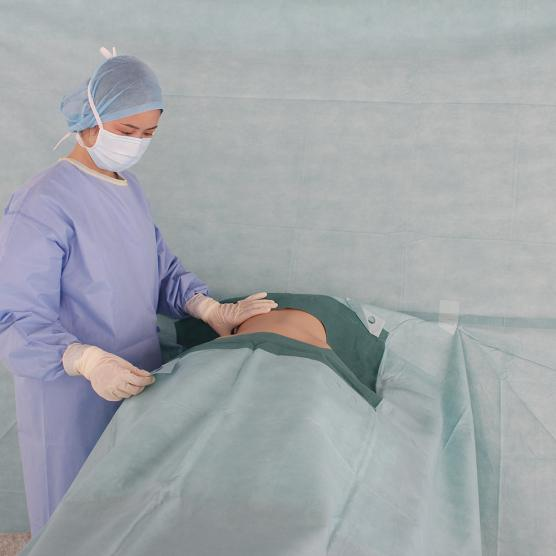 What is Laparotomy Draping
Laparotomy draping is an important aspect of surgery that helps to create a sterile environment for the surgical team. It also helps to prevent infection and other complications. There are different types of laparotomy drapes, and the type you use will depend on the type of surgery you are having. It is important to know when to use laparotomy drapes.
Why Use Laparotomy Drapes
Laparotomy drapes are an essential tool during surgery. They help to keep the patient safe and help to prevent infection.
Laparotomy drapes are made from soft, lightweight materials that are easy to move around the hospital. They can be placed over the patient's body so that no part of the body is visible. This helps to protect the patient from accidental contact with or staff members.
Overall, laparotomy drapes are an essential tool during surgery. They help to keep patients safe and prevent infection to both the patient and the surgical team.
How to Use a Laparotomy Drape
Laparotomy drapes are a key tool in laparoscopic surgery. They help to protect the delicate organs and tissues within the body during surgery.
To use a laparotomy drape, first make sure that you have the correct size and shape laparotomy drape. Laparotomy drapes come in many different sizes and shapes, and they all need to be tailored specifically to the operation that you are performing.
Next, make a small hole in the drape using a scalpel or scissors. This hole should be about 2-3 inches wide, and it should be located just above the navel.
Now, secure the laparotomy drape around your body using adhesive dots or straps. Make sure that the hole in the drape is positioned exactly over your surgical site.
Finally, carefully enter the operating room and perform your surgery. The laparotomy drape will help to protect you and your surgical team from injury.
Conclusion
Laparotomy drapes are an essential part of any hospital room. Not only do they keep the patient safe from external contamination, but they also help to improve the flow of air and light into and through the operating room.