Winner Medical offers innovative surgical solutions. Their products include surgical gowns and packs. Surgical gowns are worn by surgeons or other healthcare professionals during surgery and are often considered one of the more important equipment in the operating room.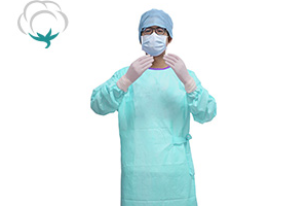 What are surgical gowns?
Surgical gowns are one of the most important pieces of personal protective equipment (PPE) that doctors, nurses, and other medical personnel wear when performing surgery or other invasive procedures. In addition, surgical gowns help protect patients and medical staff from cross-contamination.
When choosing a surgical gown, some factors are material, fit, breathability, fluid resistance, lint generation, and comfort. Winner Medical's surgical gowns are made from cotton.
Made of biodegradable cotton
As more and more hospitals adopt sustainability measures, it's important to know that your surgical gowns can be part of the solution to meet the goal of "carbon neutrality." Surgical gowns are made from biodegradable cotton that will break down naturally over time, making them a more environmentally friendly option. These surgical gowns are just as effective as traditional ones made from synthetic materials, but they offer the added benefit of being gentle on the environment.
Extraordinary Surgical Gowns Quality
Winner Medical is a business that manufactures safe surgical packs. This business has made outstanding advancements in safety and has provided a model for other businesses to follow. They ensure that all their materials are of the greatest caliber, making their surgical packs the safest on the market.
Due to Winner Medical's leading position in China and the world, Winner Medical aspires to focus more on its reputation and expand its brand. With many local and worldwide distinctions, awards, and recognitions, Winner Medical continues to gain acclaim from the community and industry. The most fundamental reason for all these honors, awards, and validation is the high quality of disposable surgical supplies, complete surgical disposable solutions, wound care solutions, and more.
Conclusion
Overall, these Winner Medical surgical packs are among the most secure on the market, making them suitable for use during surgery. However, they are an excellent choice for anyone seeking a safe and dependable surgical pack because they provide high levels of safety and dependability.