In the market for advanced medical disposables, the need for quality is constantly top of mind. Because they are closely related to human life, medical products must be carefully made. In the creation of medical items, sloppiness or negligence are not acceptable. Today, we're going to introduce Winner Medical, a Chinese manufacturer of advanced wound dressing solutions with more than 30 years of experience. The world's hospitals embrace their products because of their great reputation for quality.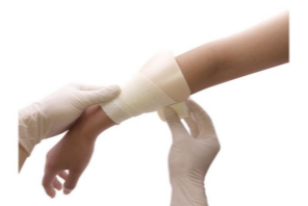 What is an advanced wound dressing?
An advanced wound dressing is any dressing that helps improve the wound healing situation. There are different types of advanced wound dressings, each with unique benefits. Some common types of dressings include compression bandages, gauze pads, tapes, and wound dressings.
Each type of advanced wound dressing has its specific benefits. For example, compression bandages help reduce swelling and pain, while gauze pads help soothe and protect the skin. Adhesive tapes can be used to hold gauze pads in place or to secure other dressings. On the other hand, wound dressings protect the wound and can absorb exudate to maintain a moist wound environment.
What are the benefits of advanced wound dressings?
Advanced wound dressings can provide support and protection while caring for a wound. Here are some of the benefits of using advanced wound dressings:
1. They can help protect the wound by creating a barrier between the wound and the environment; these treatments can help reduce the risk of bacteria entering the wound and causing injury.
2. they have an evenly porous silicone layer firmly anchored around the wound.
3. They have an absorbent foam layer that absorbs large amounts of exudate and reduces peri-wound maceration.
High-End Wound Care Solution
Winner Medical produces high-end, technologically sophisticated wound treatment products. Acute wounds appear out of nowhere. Its pathological development resembles the process used to cure conventional wounds. An acute wound in medicine typically takes several weeks to heal. Winner Medical offers high-quality wound care items such as silicone foam, non woven, and film dressings to safeguard the recovery of minor wounds. Advanced dressings are made of non-woven fabric with no tip, a high exudate absorption capacity, and a fast absorption rate, making them ideal for wound healing.