First of all, what you need to know is that no AAMI (Association for the Advancement of Medical Instrumentation) score will specify the type of surgical gown based on the type of surgery. Each institution is ultimately responsible for selecting the correct surgical gown for its operating room staff.
The next four things are the AAMI ratings of different grades of protective sterile surgical gowns:
Level 1: Minimal liquid barrier protection, used in daily patient care when there is little risk of liquid contact, generally not used in operating rooms.
Level 2: Minimum to low liquid barrier protection, used when there is only a slight risk of liquid contact, for minimally invasive surgery, such as lumps and masses.
Level 3: Moderate liquid barrier protection, used in the most extensive surgical procedures where the risk of liquid exposure is moderate.
Level 4: The highest liquid and microbial barrier protection, which provides protection against blood-borne pathogens in critical areas; used for long-term liquid-intensive operations.
Critical area of sterile surgical gowns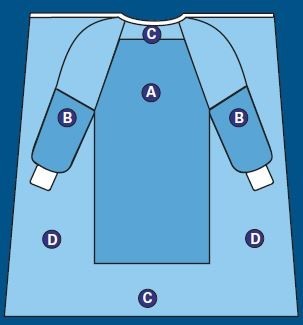 This picture shows the key areas on the sterile surgical gown.
The critical area refers to the area (Area A and B) that is most likely to have direct contact with blood, body fluids and other potentially infectious substances. For sterile surgical gowns, this includes the fabrics and structures of Area A and B (cuff seams, front lace attachments).
The entire surgical gown (Area A, B, and C), including seams, but excluding cuffs, downswing, and hem,  is required to have a barrier performance of at least level 1.
The back of the gown (Area D) may be non-protective.
If you have any questions about the surgical gown provided in the operating room, please contact us.