The medical covers that are frequently used in surgery are disposable surgical drapes. Because they cannot be recycled, they offer a high level of safety. To protect the patient's life, they are sterilized at the manufacturer. Today, we highlight Winner Medical, a reputable manufacturer of medical supplies in China that provides comprehensive surgical kit solutions, including premium disposable surgical drapes.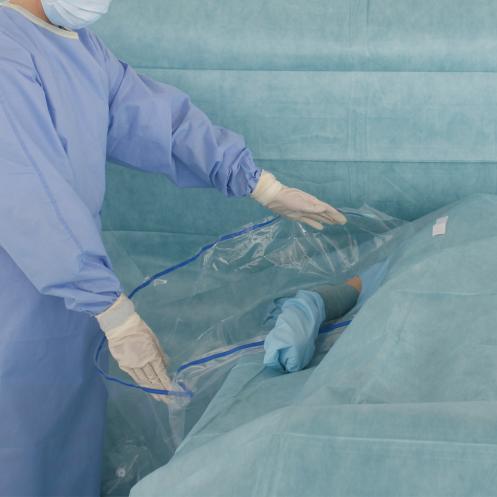 The purpose of using sterile disposable surgical drapes is to act as a barrier against surgical infection for patients undergoing surgery. Because the entire surgical procedure has strict sterility standards, sterile drape sheets are placed around the surgical region to extend the sterile area after the skin in the surgical area has been sterilized. To prevent bacteria from entering the incision and to avoid and minimize contamination during surgery, sterile disposable surgical drapes can be spread out around the surgical area to create a larger sterile area.
When comfort, cost, safety, barrier effectiveness, and dependability are taken into account, disposable surgical drapes have several distinct advantages over reusable surgical cavity wipes. They have no labor-intensive processes like washing, bleaching, ironing, and drying. The most notable quality of sterile drape sheets is their advantage of complete cleanliness. Sterile conditions should always come first when doing surgery. The sterility of disposables is fully guaranteed by disposable surgical drapes.
Benefits of the Product from Winner Medical
To solve the issue of bacteria in the source and strengthen the safety barrier function of the sterile drape sheet, Winner Medical first addresses the issue of the disposable surgical drapes having very little debris coming out to reduce the likelihood of surgical accidents. Secondly, Winner Medical produces sterile disposable surgical drapes strictly by the sterile standard.
Second, Winner Medical manufactures sterile drape sheets under high sterile standards, resolving the issue of textiles contaminated with bacteria at their root and strengthening the safety barrier function of sterile drape sheets.
Thirdly, Winner Medical created disposable surgical drapes packaging in a compact size that is both convenient to transport and carry. The sheet is appropriately packaged and folded.
Fourth, for convenience of use, the sterile disposable surgical drapes can be used with other surgical kit goods from Winner Medical, such as infusion tubes, racks, fluid collecting bags, instrument covering cloths, etc.
Seek further information about the disposable surgical drapes made by Winner Medical at their official website!