Tyvek 1422a Protective Coverall with hood, with shoe cover separated
Product description:
Winner Protective Coverall offers enhanced comfort and protection. To provide barrier and protection to the clinical staffs who contacts with potential infection and reduce the risk for the virus spread.
Product features:
l Breathable fabric helps offer the comfort to wearer. Offers option on Tyvek fabric or high-grad domestic spun-bonded non-woven fabric
l overlocked seam with extra tape for added strength and an improved liquid barrier
l Front zipper with re-sealable storm flap
l Hood designed with perfect fit
l Knitted cuff for secure fit
l Antiskid shoe cover: all-in-one or separate design
Our advantages:
u Stock available
u Domestic material and DuPont material available
u Main supplier for protective coveralls in China
u Medical Protective Coverall Requirement Test Report available
u compliance to EN14126, ISO16603 & ISO16604
Product application:
Suitable for preventing dust and aerosols, such as fiberglass, paint spray, etc.,
Especially for medical CDC for major epidemic outbreak treatment, etc.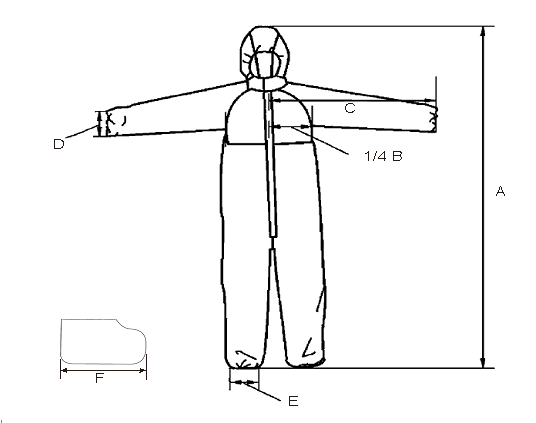 Premium version Protective Coverall with hood with shoe cover, two designs, same as Tyvek 1422a.
But the size is a little difference.
| | | | | | | | |
| --- | --- | --- | --- | --- | --- | --- | --- |
| Size | A/cm | B/cm | C/cm | D/cm) | E/cm | F/cm | Suggested Height/cm |
| 160/S | 194 | 120 | 84 | 18 | 24 | 42 | 162~170 |
| 165/M | 199 | 125 | 86 | 18 | 24 | 42 | 167~175 |
| 170/L | 204 | 130 | 90 | 18 | 24 | 42 | 172~180 |
| 175/XL | 209 | 135 | 93 | 18 | 24 | 42 | 180~188 |
| 180/XXL | 214 | 140 | 96 | 18 | 24 | 42 | 186~194 |
| 185/XXXL | 219 | 145 | 99 | 18 | 24 | 42 | 192~200 |
| Tolerance | ±6 | ±6 | ±6 | ±6 | ±6 | ±6 | |
| | | | | | | | |
| --- | --- | --- | --- | --- | --- | --- | --- |
| Size | A/cm | B/cm | C/cm | D/cm) | E/cm | F/cm | Suggested Height/cm |
| 160/S | 194 | 120 | 84 | 18 | 24 | 42 | 162~170 |
| 165/M | 199 | 125 | 86 | 18 | 24 | 42 | 167~175 |
| 170/L | 204 | 130 | 90 | 18 | 24 | 42 | 172~180 |
| 175/XL | 209 | 135 | 93 | 18 | 24 | 42 | 180~188 |
| 180/XXL | 214 | 140 | 96 | 18 | 24 | 42 | 186~194 |
| 185/XXXL | 219 | 145 | 99 | 18 | 24 | 42 | 192~200 |
| Tolerance | ±6 | ±6 | ±6 | ±6 | ±6 | ±6 | |